It felt great to pull into Gio's house in Mexico City after driving over 2,200 miles (3,600km) from my house in Georgia.  Even though we were only on the road for 10 days, passing the US/Mexico border was our first real challenge, and arriving to Gio's family's house our first destination & goal.
Returning to the comforts of a warm bed, running water and a roof over our head, it could have been easy to lay around and be unproductive.  But we made it a point not to be huevones, and actively looked for a volunteer project to get involved with.
Gio had previous experience with TECHO, an organization that sponsors families through building houses in the slums.  Before I knew it, she had signed us up to volunteer for 3 straight days in Toltenco, a community in the southern slums in Mexico City.   
I had seen some slums in Asia and the favelas in Brazil, but I had never seen such makeshift, ticky-tack squalor as when I walked into Toltenco.  The place looked like a natural disaster area – like an earthquake or hurricane just came through, with the "houses" built out of pieces of seemingly anything.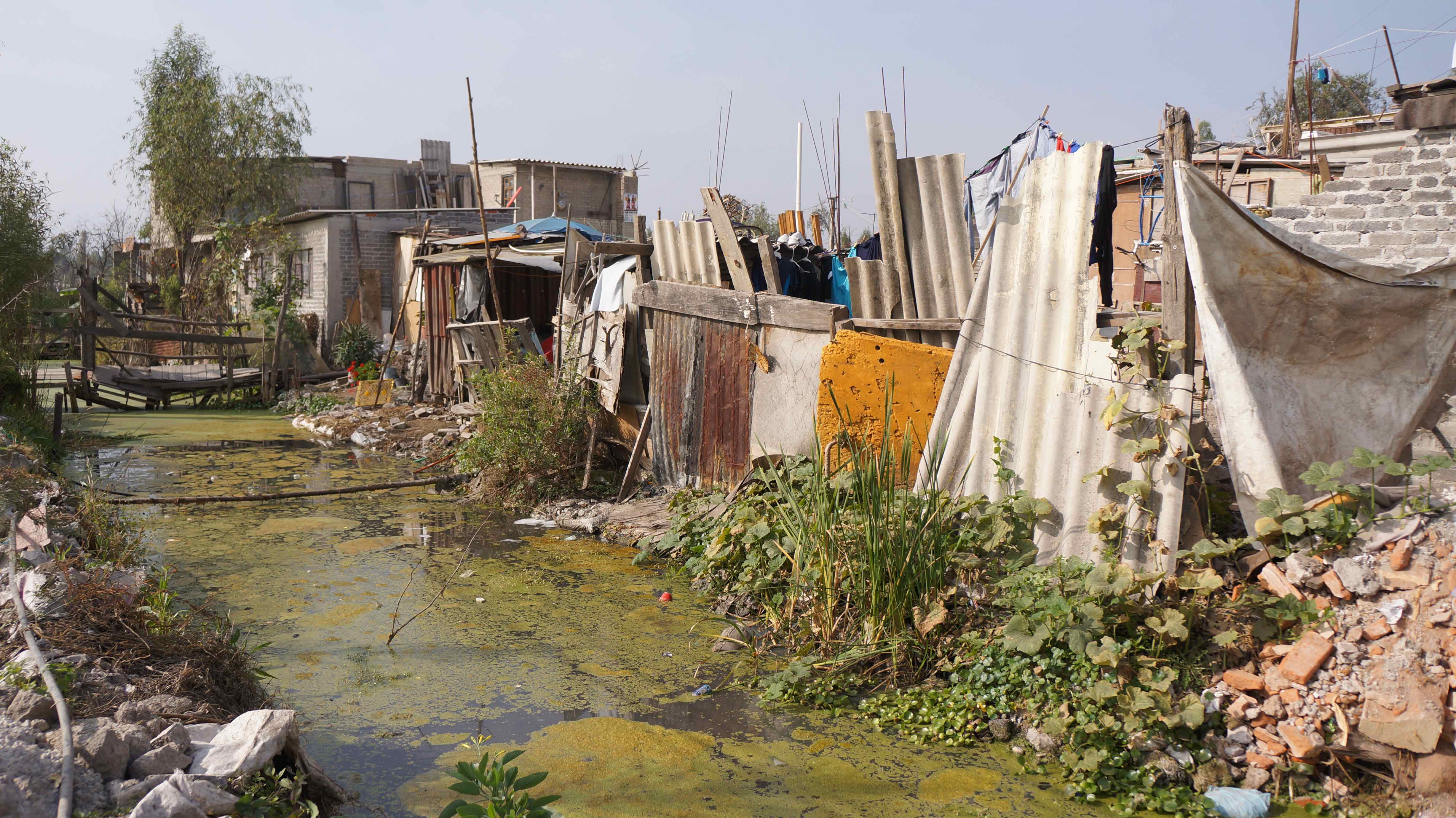 To make matters worse, Toltenco is located in the Zona Chinampera, an area of Mexico City where the floating islands & canals of the ancient city of Tenochtitlan used to be.  Having a community built on top of an ancient Aztec civilization's canal system sounds pretty cool, but trust me, it's not.  That is, unless you prefer your house to be built on top of sinking ground. We were in for an interesting weekend.
Although Mexico is rapidly developing & very much a success story in Latin America, the economic inequality can be staggering.  Like the United States, there is a wealth distribution problem that seems to be ignored by the government.
Actually, the entire community of Toltenco is ignored by the government.
These signs were everywhere, and when I asked Omar, the man of our sponsored family about them, he told me,
"Es que el gobierno no te cobra por vivir acá a menos que tengas una casa verdadera, de concreto o algo así"

It's just that the government doesn't charge you to live here unless you have a real house, made of concrete or something like that. 
You see, Toltenco is the only slum that I know of that's actually located in a UNESCO World Heritage site.  Remember the ancient Aztec canal system?  Part of that canal system is preserved in the form of the Ecological Park of Xochimilco right down the street, where thousands of people come every week to ride trajineras (think Venice-style gondola boats) through the canals to eat, drink, & party the day away.
In addition to it technically being illegal to live there, the sinking ground is so bad-suited for construction, that no-one would want to build a house here, unless they could live for practically free, or had no other place to go (see: the slum of Toltenco).
We were told that the government has tried to kick the people of Toltenco off this federally-protected land multiple times.  All that happens is the people move back because they don't have anywhere else to live, and the Mexican government doesn't provide them a real alternative. Instead of continuing to evict them, or provide some sort of government-housing for the people of Toltenco, the government has found a cheaper solution to deal with the problem:  ignore them.
Luckily for the government, the canals are so extensive that many of them are still unaffected by the slums.  As long as the trajinera boat routes circulate through the prettier, slum-free canals, the tourists will keep coming to Xochimilco do their spending & reveling, unaware of the poverty that lies around the corner.
But thanks to TECHO, thousands of volunteers can get involved to do their part behind the scenes.  Thanks to TECHO, Estrella, Oscar, Omar, & Blanca have a little house to call their own.
It was fulfilling to completely build a house from foundation to roof.  But it was even better to give it away to a family in need, and know that we had played a small part in improving the quality of their lives.
More Info About TECHO
TECHO is a NGO that works to combat poverty in 19 countries in Latin America, primarily through construction of "mediaguas" or small, prefabricated houses. Some interesting stats about TECHO:
They have built over 102,448 houses throughout Latin America
About 80% of TECHO's funding comes from the private sector
They've had 723,178 youth volunteers work in effort to overturn poverty in Latin America.
The sponsored families are responsible for only about 3% of the total cost of the house. Each family in Toltenco paid about 1,500 pesos, which brings the actual value of the house to 50,000 pesos (about $3,000)
No doubt remarkable figures, but what really impressed me about TECHO was their commitment to do more than just build houses in the slums in Mexico City.  They seek to have a lasting impact through sponsoring community events, and also by paralleling construction principles with fundamental values in life through short, quick lessons given to the families & volunteers. You may have noticed an example of one of these speeches in the video, as our instructor Jorge compared the importance of the structural integrity of a house to the stability of the family, which forms the base unit of life.
Blessed to Have a Choice, Privileged to Help
Now I'm writing this post from Gio's house, where the heater is turned on, the shower has hot water, the toilet flushes, the fridge is cold, and I'm enjoying these comforts while I can.  Soon we'll be getting back on the road, and life won't be so comfortable, but we're doing so voluntarily. We've been blessed with the opportunity to choose these luxuries or not.  Others, like many in the slum of Toltenco, don't have a choice.
This experience really reinforced my belief in the benefits of volunteering in poverty-stricken areas while traveling.  To form a full, comprehensive opinion of a country, it's important to go to places like Toltenco, instead of only the beautiful, tourist destinations.
Life isn't always postcard-worthy.  Leisurely vacations are great, but they don't offer a true depiction of local life.  How can one be aware of real problems & struggles if we don't expose ourselves to them?  Once we do, we can begin to not only help others in need, but help ourselves grow as well.
If you'd like to get involved & volunteer with TECHOS, don't hesitate to ask me any questions in the comments below!  I'd be happy to tell you even more about our experience building houses in the slums in Mexico City, and connect you with the contacts that I made.  Or you can contact them directly:
TECHOS (formerly known as Techos Para Mi País)

2050 SW 22nd St., Suite 306. Miami, FL.

Telephone: (305)-860-4090

Email: info.usa@techo.org