I'm always looking to practice my Spanish as I travel, and one of my favorite things to do is to go to the local market.
Markets in Latin America are so vibrant & colorful, and are at the very center of life in many communities.  There are always so many people milling around, wheeling supplies in to stock up, shouting & hustling to sell out, and doing whatever can be done to meet in the middle.  There is no better place to be thrown into the Spanish-speaking mix!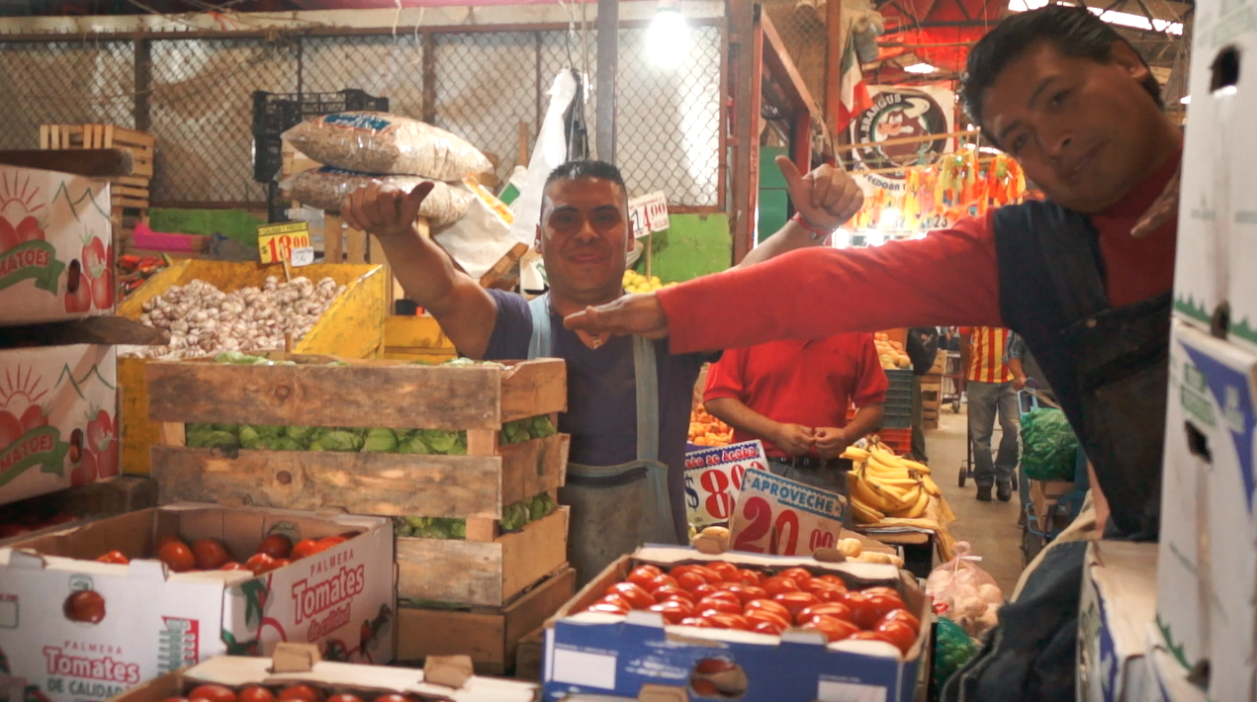 I enjoy going to the market not just for the experience of immersing myself in the bustling madness, but also to brush up on my vocabulary.  Walking through the market is a great way to familiarize yourself with the names of vegetables, fruits, meats, and bread, so I decided to make a quick, improvised video to bring the market experience to you in your home.
The first half of the video is all about the vegetables and fruits, which were the reason we came to the market in the first place.  After making all of our purchases, we wandered back into the meat market to capture a more all-inclusive experience. Apologies in advance to vegetarians and animal activists, but in most places in Latin America, and especially Mexico, meat is a huge part of the local diet.  Consider turning the video off about the 8:55 mark.
My favorite part of this video in particular was capturing the process of making chicharrón.  Not only is the process of making chicharrón fascinating to me, but the guy making it was hilarious!
Notice how he is so excited to show me his trade, and we even go back and forth making fun of each other's Spanish & English, all in good fun!  He imitates things I say in English that he doesn't understand, trying to formulate the words according to the sounds he hears.
Even though he was joking, he actually illustrates the best way to start learning a language – through imitation of the sounds that he hears, without any embarrassment at all. This is how babies learn to speak so quickly.  They listen and speak, without fear of "sounding dumb" or making errors.  That's how you & I should learn to speak Spanish too!
After watching the video, make sure and check out the comprehensive list of Spanish vocabulary words and various phrases below from my day at the market.  Feel free to study them to practice your Spanish, and let me know if you have any questions!
Spanish Vocabulary List
abastos – supplies
hacer las compras – do the shopping
la locura – the madness
verduras – vegetables
frutas – fruit
guayaba – guava
fresa – strawberry
plátano macho – big banana (plantain)
plátano dominico – small, dominican bananas
sandía – watermelon
plátano – banana
mandarina – mandarin
manzana – apple
tejocote – tejocote
ponche – punch
cacahuate – peanut
calabaza – squash
cebolla – onion
papa cambray – cambray potatoes (small)
papa normal – normal potatoes
jitomate – red tomato
tomate – green tomato
zanahoria – carrot
chicharro – pea
aguacate – avocado
limón – lime
ejote – gren bean
ajo – garlic
seta – seta mushroom
flor de calabaza – zucchini flower
cilantro – cilantro
nopal – nopal cactus
morro – bell pepper
lechuga – lettuce
lechuga romana – romaine lettuce
espinaca – spinach
broccoli – broccoli
champiñones – mushrooms
nada – nothing
melon – cantaloupe
apio – celery
ciruela – plum
piña – pineapples
chayote – chayote
lima – lemon
mil, cuatrocientos y diez – 1,410
mil – thousand
cuatro – 4
cien – hundred
diez – 10
pepino – cucumber
caja – box
güey – dude (Mexican)
comida – food
las vacaciones – the holidays
caña de azúcar – sugar cane
jalapeño – jalapeño
chile serrano – serrano chile pepper
chile de árbol – chile de árbol pepper
picoso – spicy
chile poblano – poblano chile pepper
chiles secos – dry chile peppers
chicharrón – chicharrón (similar to pork rinds but not the same)
cuero – hide
piel – skin
pelos – hairs
quemados – burned
aceite – oil
¡Checale! – Check it out!
sabroso – tasty
grasa – fat
listo – ready, smart
Estoy listo – I'm ready
Soy listo – I'm smart
probar – to try
Pancho Villa – Mexican Revolution hero
pollería – poulty shop
pollo – chicken
moronga – blood sausage
cortes distintas de res – different cuts of beef
puerco – pork, pig
bistec picado – chopped up beef
bistec fresco – fresh beef
chorizo – sausage
chuleta ahumada – smoked pork chop
manitas – little hands (in this case pig feed)
chuleta fresca – fresh pork chop
cabez de cerdo – pig head
¡pobrecito! – poor little thing
costilla americana – american-style ribs
sanitario – bathroom, toilet
elote – corn on the cob
maíz – corn
escoger – to choose
piñata – piñata
caber – to fit
apenas – barely
un día exitoso – a successful day
hasta la próxima – until next time
Was this video good Spanish practice for you?  Doesn't the Mexican market experience look like fun?  If you have any questions about any of the Spanish vocabulary words or phrases learned in today's video, please let me know in the comments below!