Did you know that deep in the Colombian jungle, hidden amongst the mountains, and far away from any sort of modern-day civilization, lies the ruins of an ancient pre-Colombian empire? The remnants of a fallen city that were so secluded & wild that not even the Spanish conquistadors could find it. A place so shrouded in mystery that new sections are being discovered all the time, many of which are thought to still house extensive gold treasures & sacred artifacts.
Welcome to The Lost City, or "La Ciudad Perdida" in Spanish.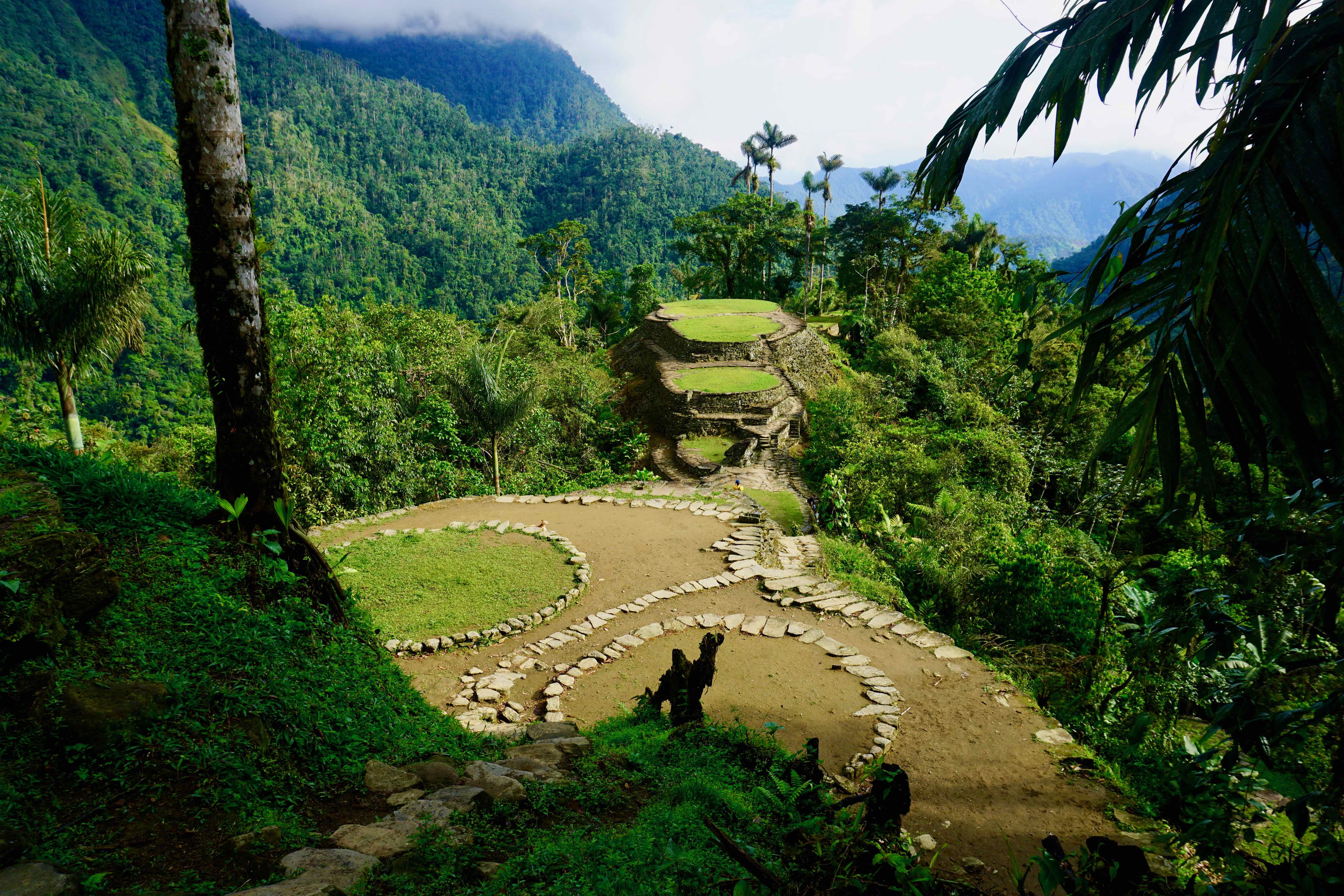 Virtually unknown to the outside world for centuries, the Lost City was "discovered" in the 1970s by local tomb raiders. After a few years of ransacking, the Colombian government stepped in to protect this sacred archaeological zone. Shortly thereafter it was opened up for tourism. The only way to see them is by braving a 4-5-6 day, 47km hike through the Sierra Nevada de Santa Marta, the highest coastal mountain range in the world.
Being a big time outdoors adventure guy, I'm constantly exploring nature and looking for the next exciting thing to do. So when I found out about the Lost City trek & the journey involved, my heart leapt at the prospect of such a mysterious escapade. It's been on my radar for years, and after finally doing it the other week, I can say it's even better than I thought it would be.
The actual ruins of The Lost City are much more impressive & extensive than photos online would lead you to believe. Furthermore, half of the joy of the Lost City tour is not just in the destination, but in the journey. Absolutely spectacular mountain scenery & views, wild and dense jungle, cascading waterfalls & refreshing swim holes, delicious food/timely snacks, more than adequate trail shelters for accommodations, and in my case, as I chose to do the tour with Magic Tour Colombia, fun, hilarious, & extremely knowledgeable guides.
I was inspired to write an article (my first in a long time) about this once-in-a-lifetime experience. Inevitably, many people will be unsure if they're up for such an adventure, on the fence about if a 4-5 day trek is even worth it to them. Here are a few reasons why trekking to The Lost City undoubtedly is…
The scenery
I almost didn't do the Lost City trek for various reasons, and I just about let a comment from a fellow backpacker almost tip the scale away from it at one point. He said, "I don't know, I love hiking, but hiking through the jungle not so much. It's the same scenery all the time, I prefer to hike in the mountains with views."
After hiking to La Ciudad Perdida & back I can 100% confirm to you that this is an incredibly scenic hike. The path has considerable elevation gain, leading you up and over mountains, out onto ridges, through meadows, and into the depths of jungle all the same.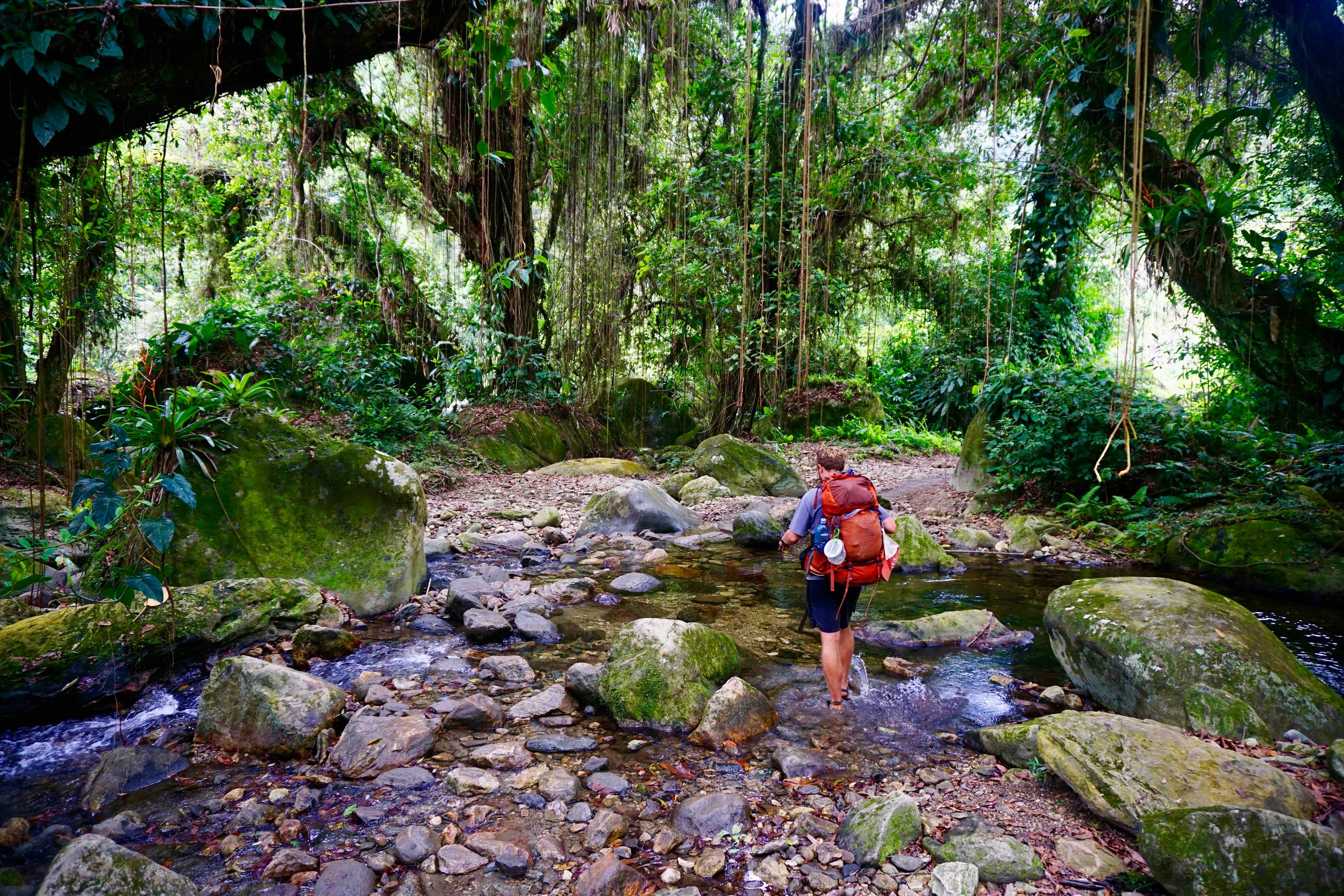 The Sierra Nevada de Santa Marta is a really beautiful mountain range, and you'll have no shortage of inspiring views every single day.
The food
The food was absolutely delicious, and that's not just my fat, finish-your-leftovers-off-and-maybe-yours-too @$$ talking. I heard pretty much everyone in my group remark about how impressed they were with the food at least once if not multiple times.
Fresh fruit, eggs, bread & jam in the mornings. Rice, lentils, soup or some sort of meat for lunch, and a variation of fresh veggies, rice, beans, pasta, chicken, beef, or fish in the evenings. Vegetarians will take heart in knowing that the chefs are happy to whip up alternative dishes as well, and one girl who was a vegetarian in my group was quite satisfied.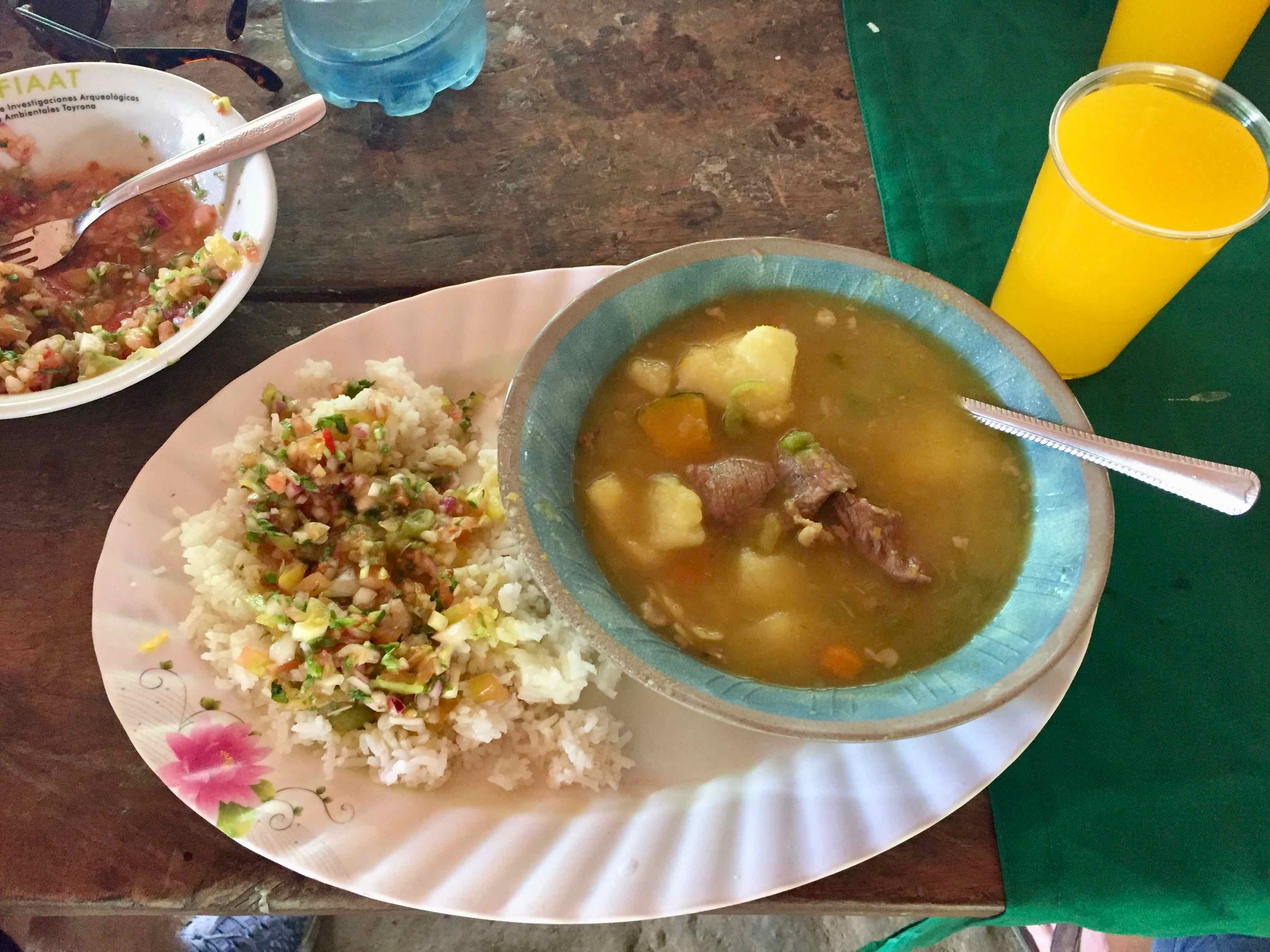 Something that really surprised and impressed me was the attention to sanitation & cleanliness the entire cooking staff undertook. EVERYONE who cooked for Magic Tour wore hair nets & sometimes latex gloves while in the kitchen. I'm serious when I say that I had never even seen this during my travels in all of Latin America, and the fact that they adhered to these 1st world standards in the middle of the jungle was all the more impressive. Furthermore, every 1-2 hours on the trail between campsites we were always welcomed with snack stops. Fresh watermelon, pineapple, oranges and cookies would replenish our energy & tide us over until the next meal. Water was readily available at all times and always sterilized.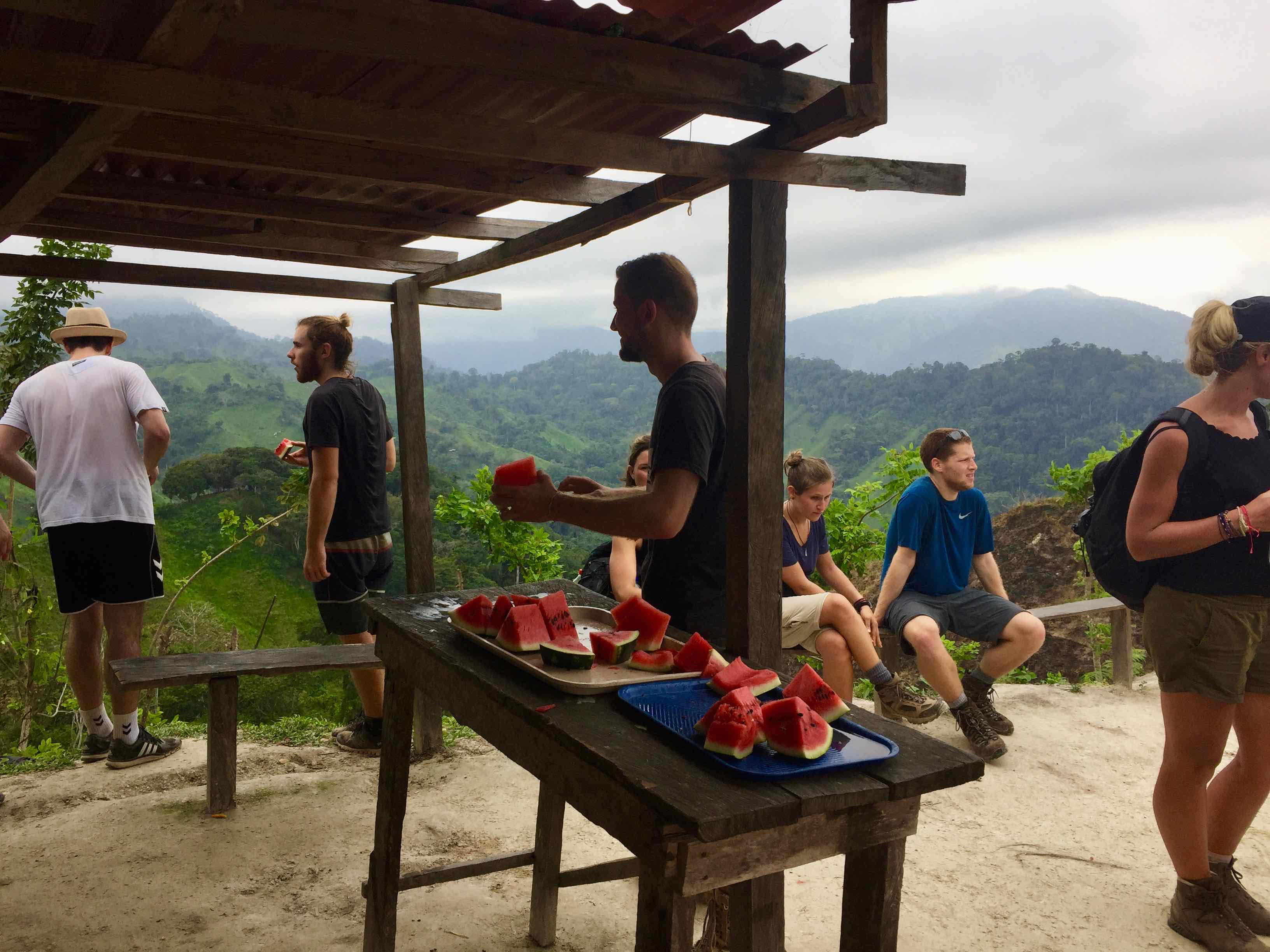 The accommodations
This wasn't so much of a concern of mine heading into the jungle as my lifestyle on the road sees me sleeping in real beds only a fraction of the time. That being said, I can understand how it may be more important to others considering doing the Lost City trek, so I wanted to cover it as well.
To accommodate the influx of western tourists which grows every year, comfortable bunk beds and hammocks, complete with full mosquito nets have been fashioned.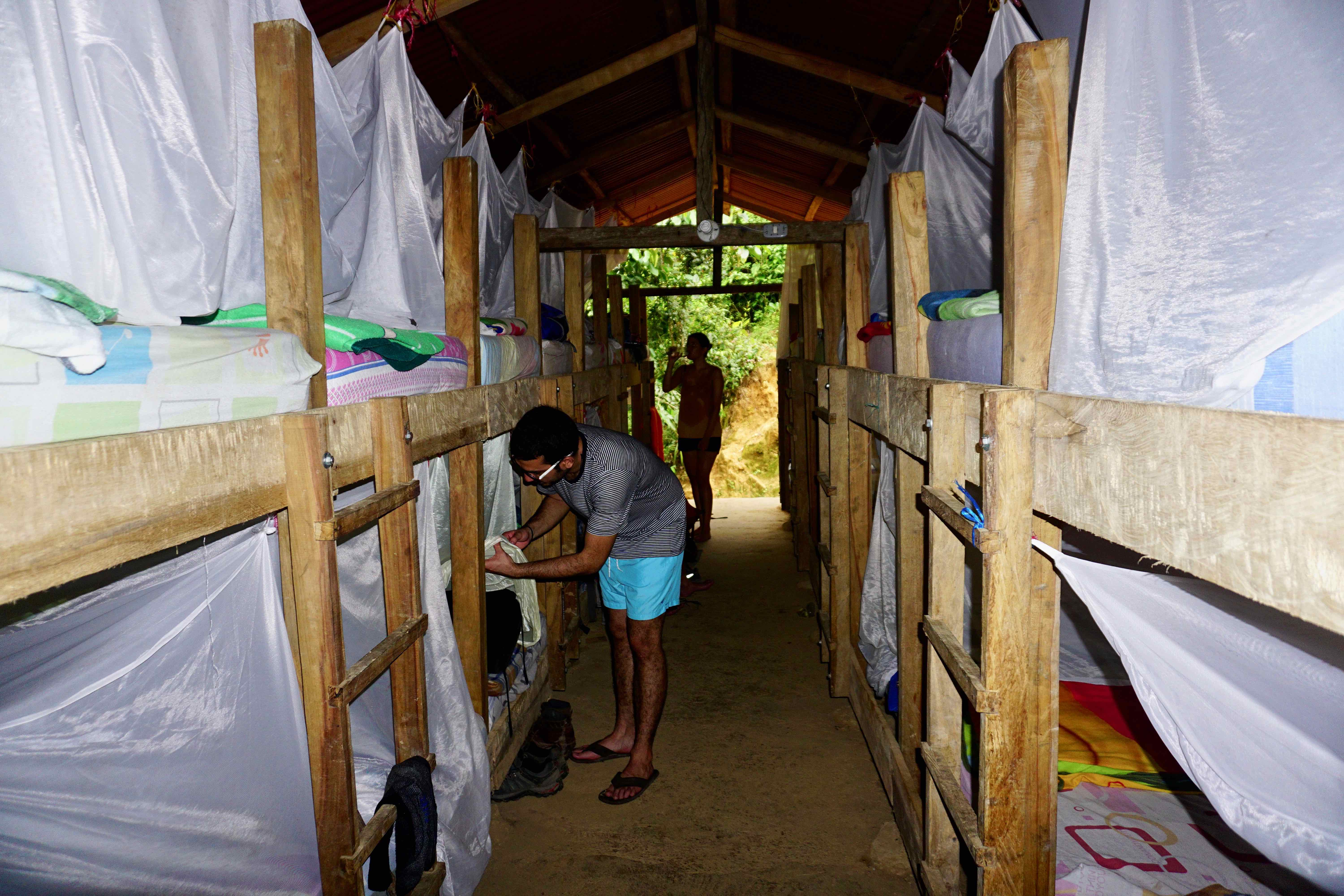 Of course, at the end of the day I was so tired that I could have fallen asleep face down in a mud hole, but even so, I was happy to lay down on the supportive mattresses & soft pillows that were provided.
Bathrooms were well-maintained and clean, with toilet paper, and even hot water showers in some of the camps!
The indigenous cultures
There are 4 different indigenous groups in the Sierra Nevada de Santa Marta: the Kogi, Wiwa, Arhuaco, and Kakuamo. All are direct descendants of the Tayrona, the people group who constructed the Lost City.
The Kogi & Wiwa are by far the most prevalent in the area. Along the path you encounter quite a few of them, selling juice or snacks to passing tourists, riding horses & driving cargo donkeys, or simply walking through the jungle to hunt or go about their daily lives. The tour also takes you through multiple Kogi villages where you can get a first hand look at where and how they live. Even though the trek to The Lost City is well on the tourist map now, it's evident that these indigenous groups have done a great job preserving their traditions & customs. Their traditional garb, primitive villages, shaman-centric ceremonies, long hair & barefoot appearance – these are really jungle people!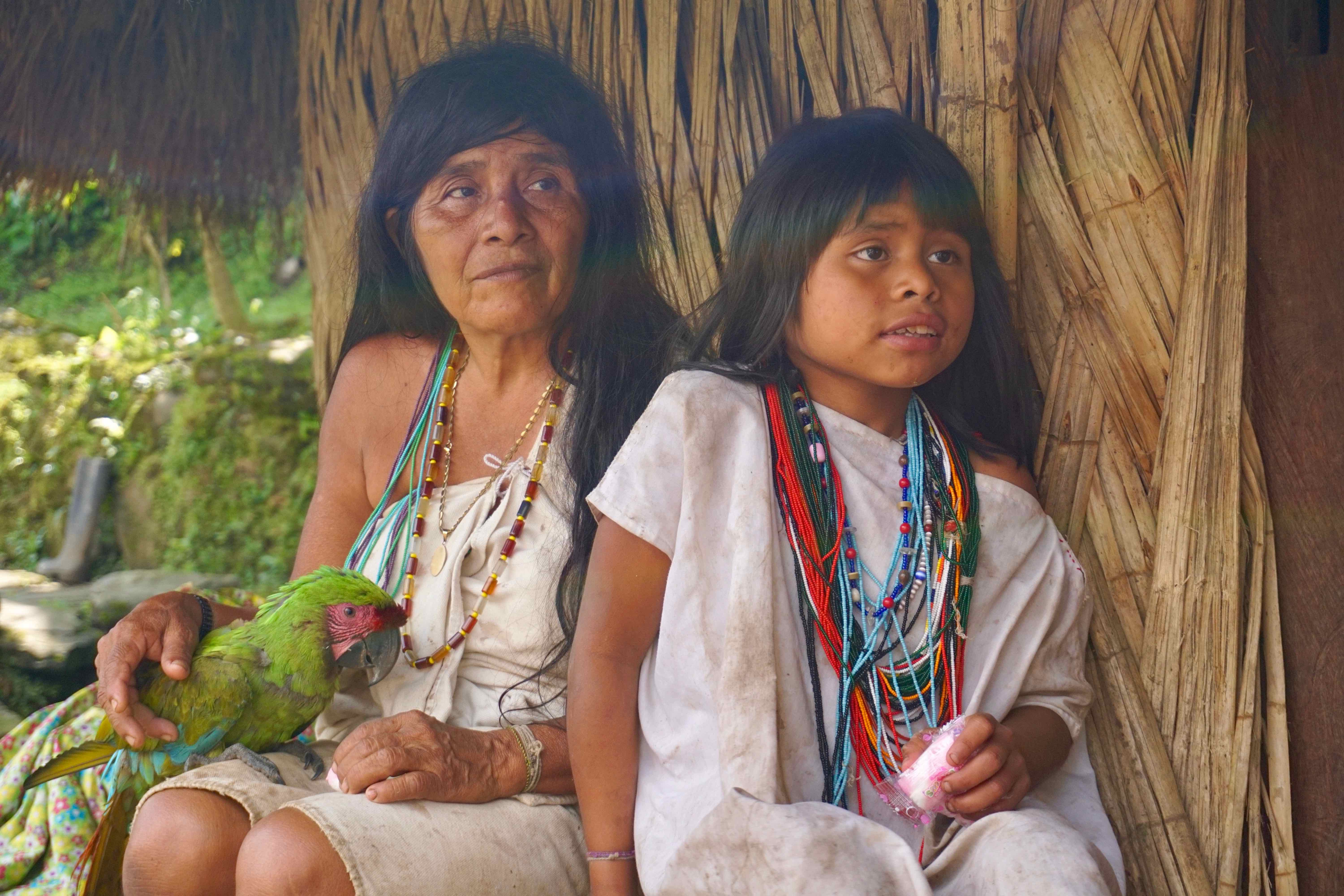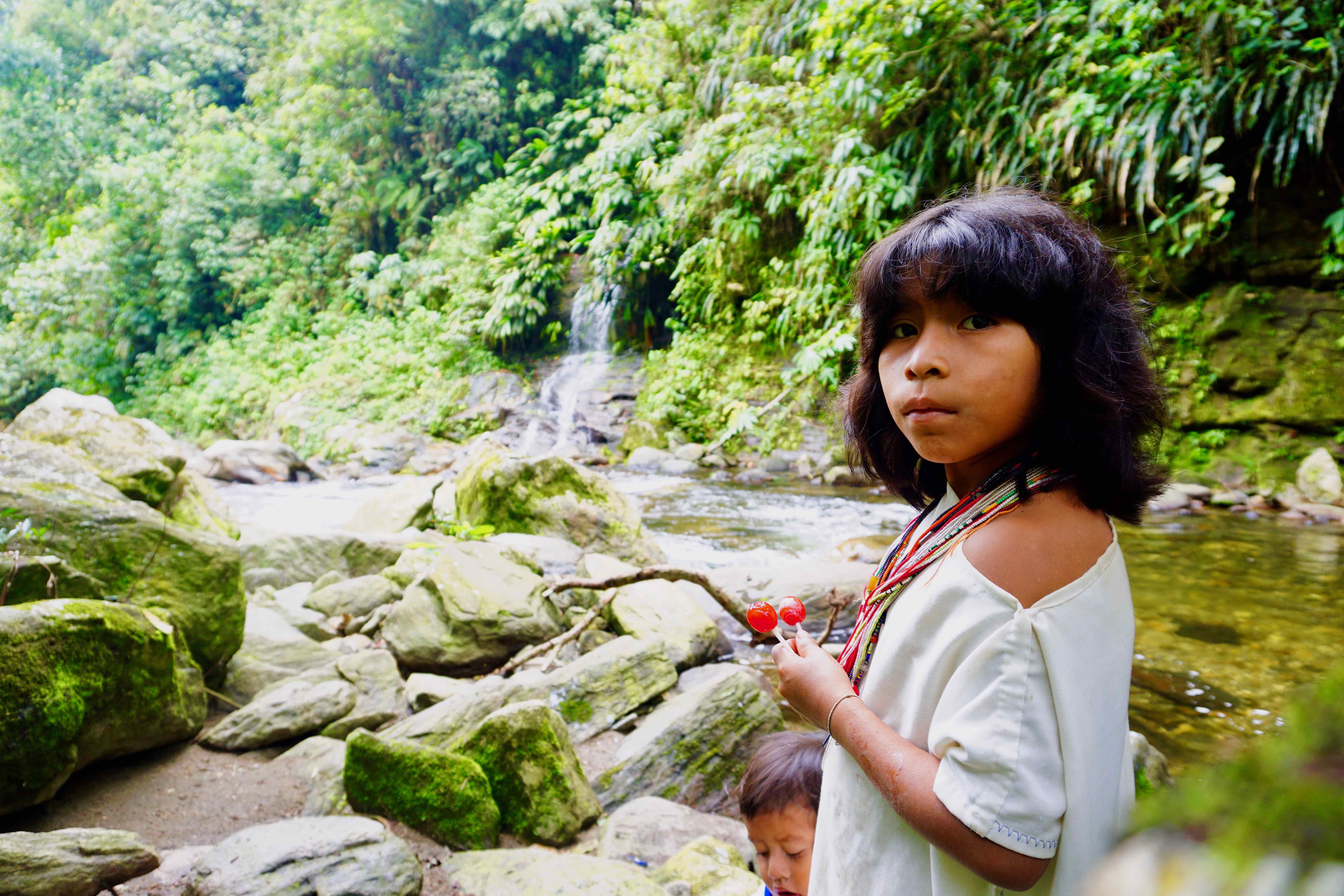 I'm more used to dealing with the indigenous groups of Mayan descent in Mexico & northern C. America, so coming face to face with Kogi & Wiwa people felt really different & wild. Everyone I interacted with was really nice as well!
The swimming holes
Is there anything better than having a natural & refreshing swimming hole in the middle of the jungle to jump in after hours of sweaty hiking? Thank God there are no shortage of river crossings on the hike to La Ciudad Perdida (The Lost City).
Now I'm something of a swim hole/waterfall/river fanatic, and I can tell you these are some solid swim holes! Clean and deep, cool but not cold, with rocks to jump of, and fed by gushing waterfalls to boot.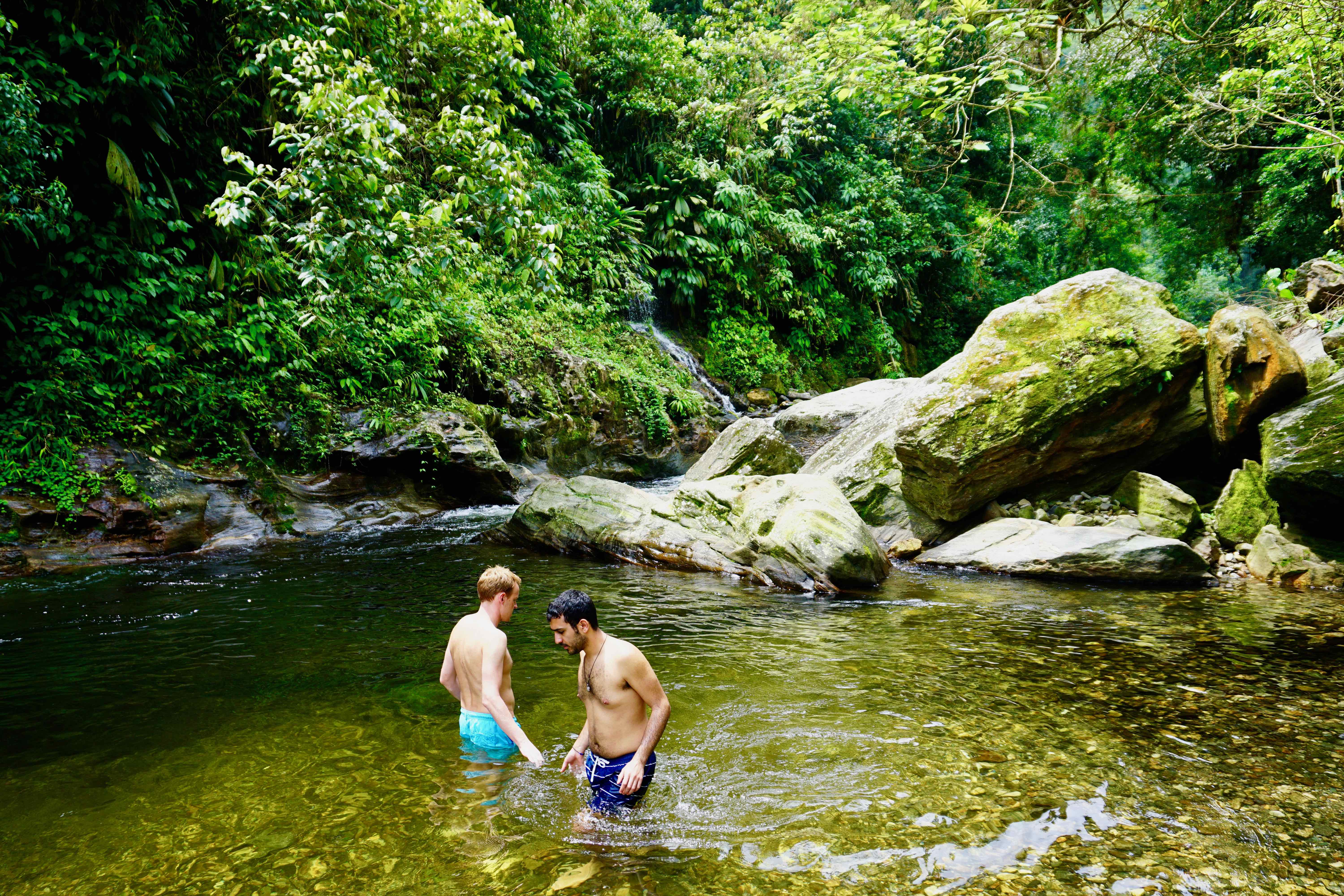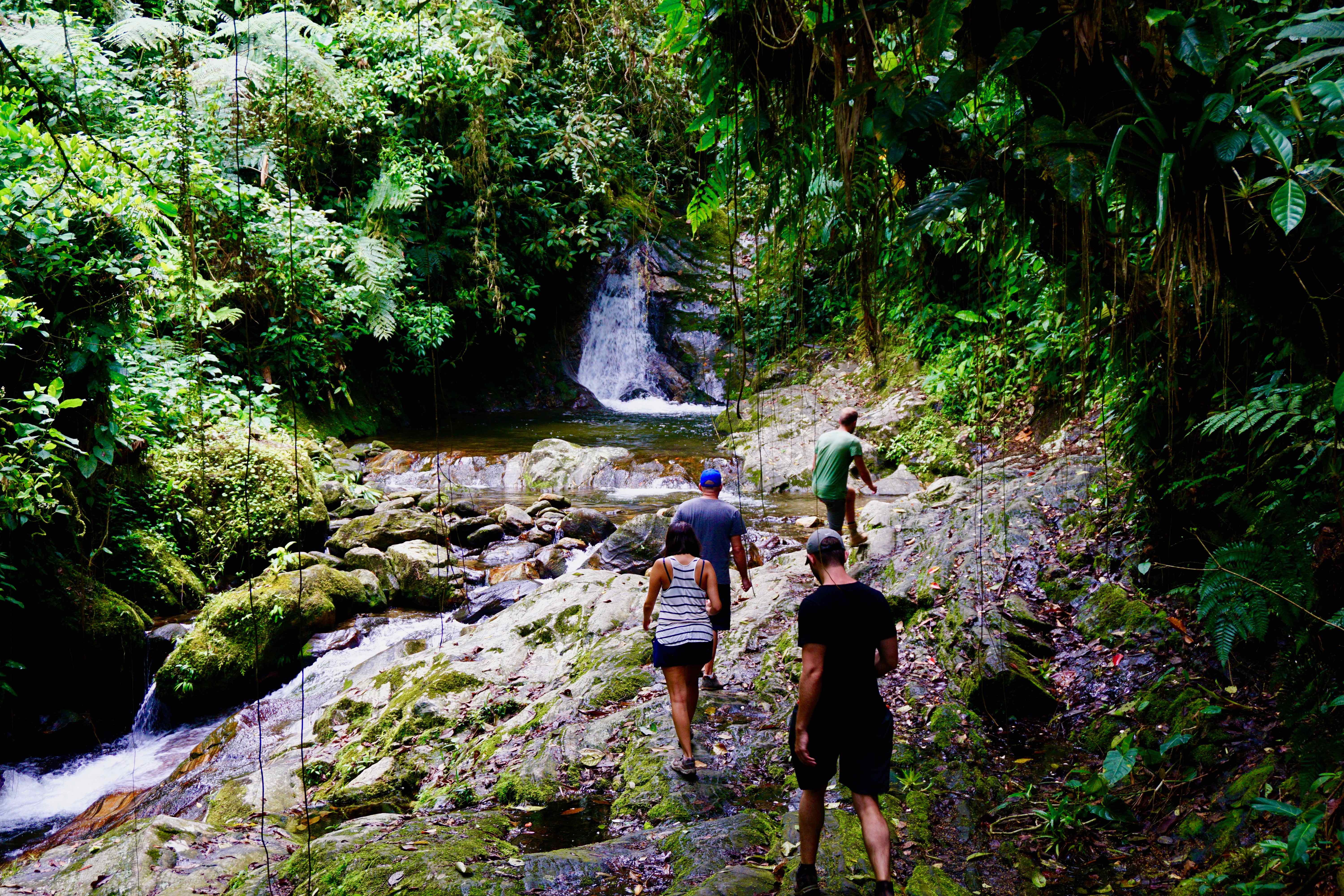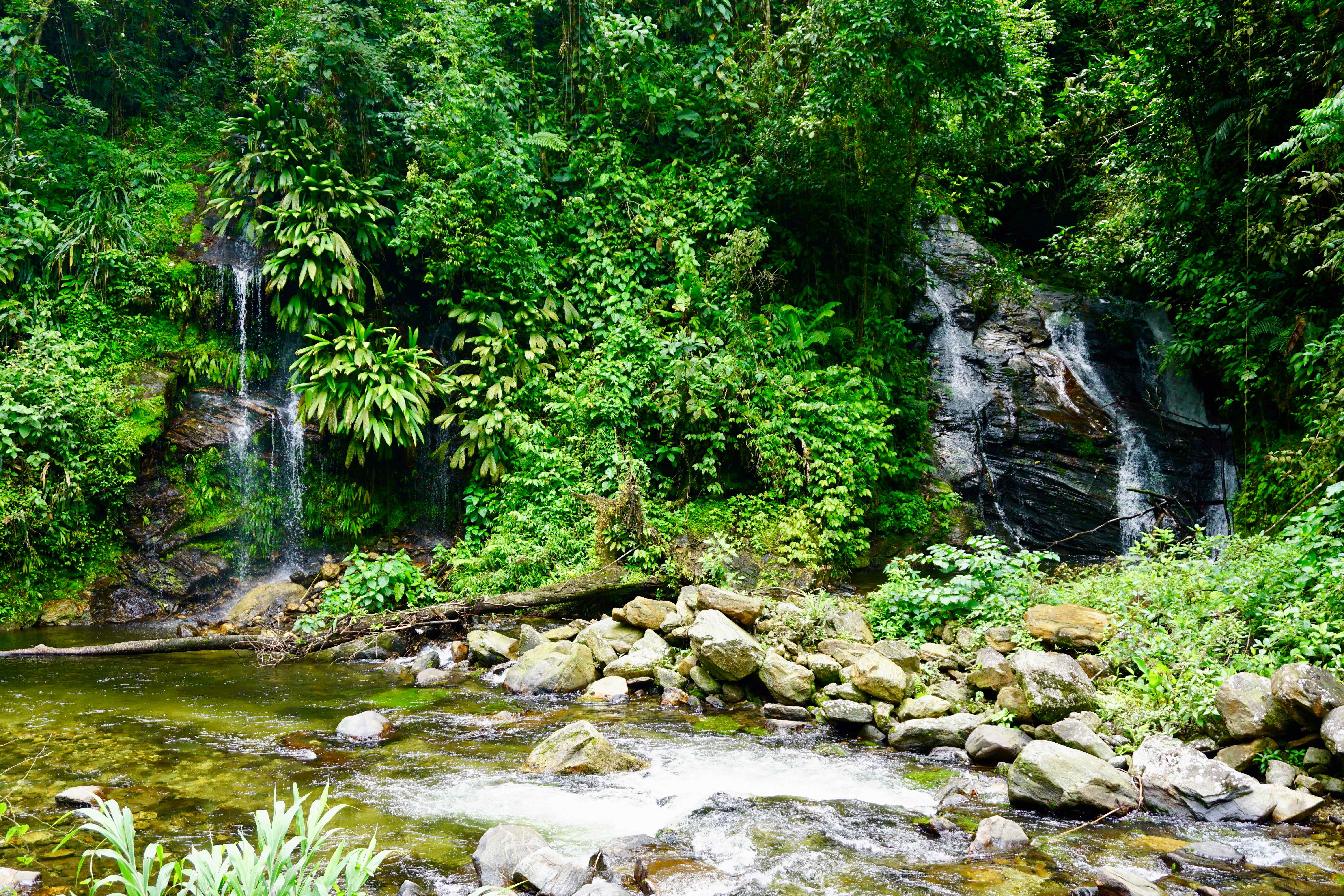 Seriously, every single place that we stopped to swim at had waterfalls cascading into the river – my type of places! Make sure to bring your GoPro!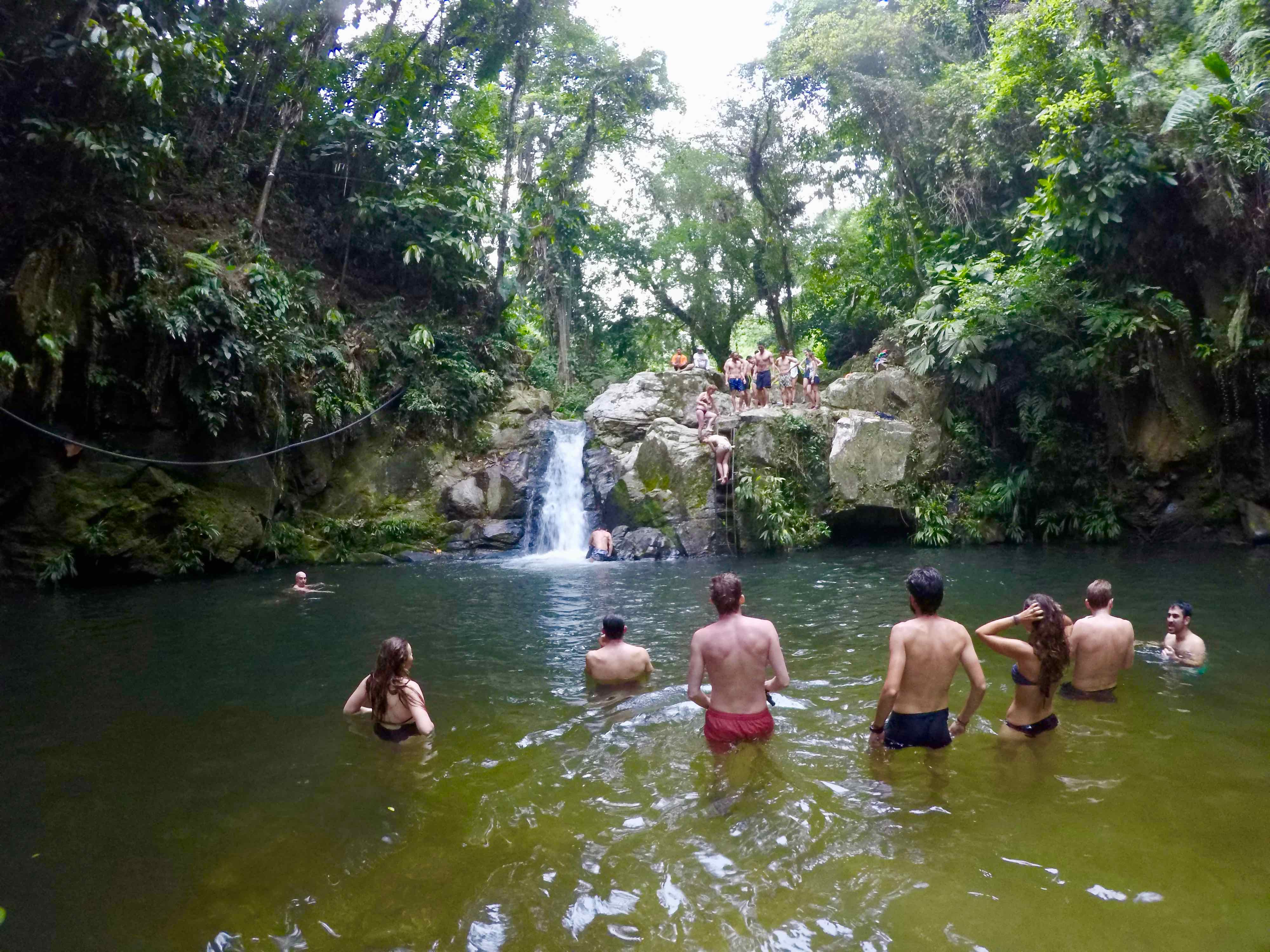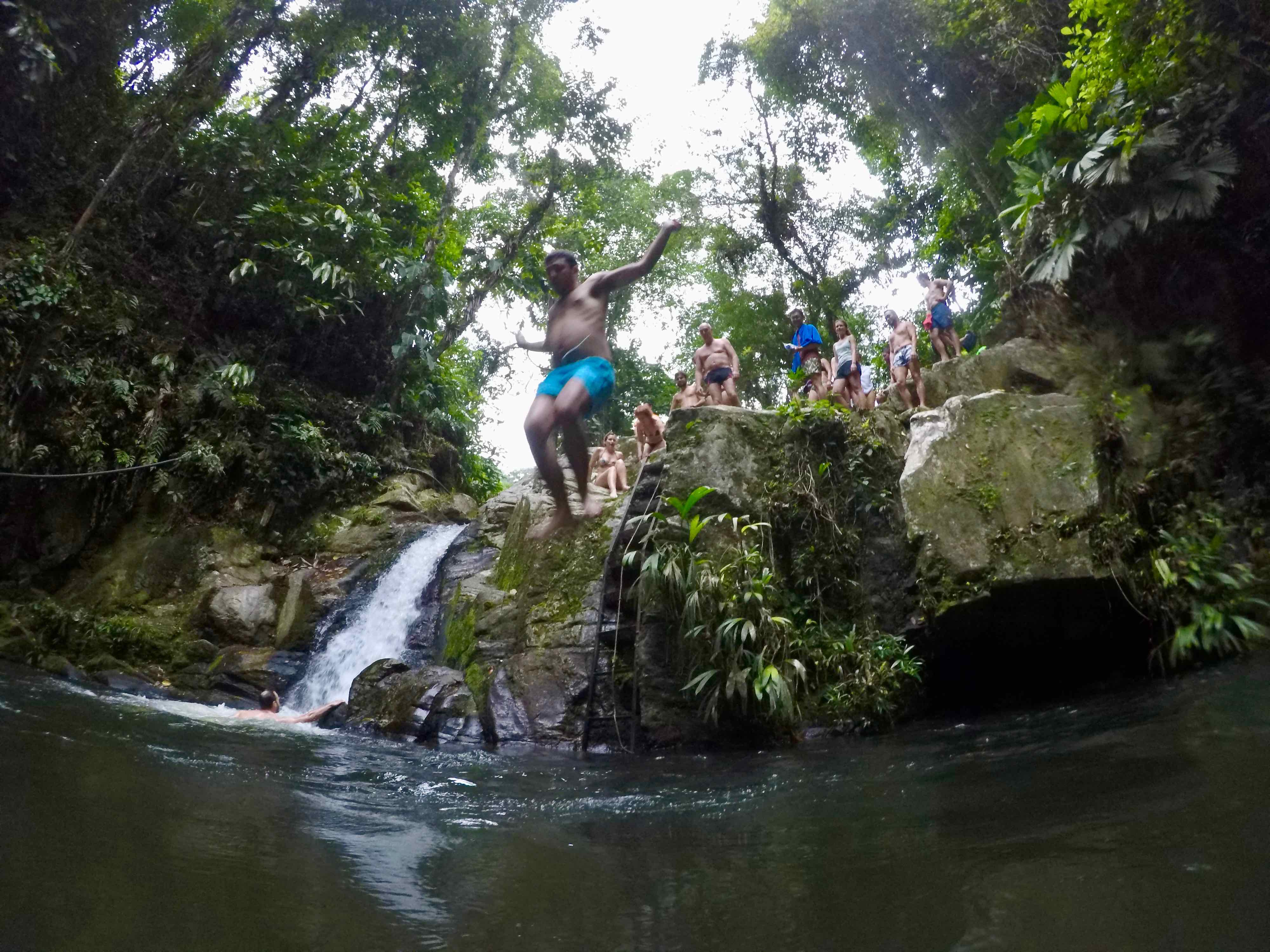 Our knowledgeable guide
It's so important to have a good guide on trips like this. I always say that without proper knowledge of the background & history, ancient ruins are nothing more than a pile of rocks. I'm glad that I went with the tour company I did, because our tour guide Juan Carlos was EXCELLENT!
Juan Carlos has been working in the Sierra Nevada for more than 20 years. He originally went to the Lost City as a "guaquero" (a tomb raider), and quickly fell in love with the place. As the archaeological zone became protected, Juan Carlos became an apprentice of sorts under Frankie Rey, the legendary tomb-raider turned guide who was literally the first person to offer tours to the Lost City.
That means that Juan Carlos has been involved with tours to the Lost City longer than pretty much anyone in the biz.
Juan Carlos was accompanied by a translator named Arnie for all of those who didn't speak Spanish.
Between the two of them, we not only learned everything about the history of the Lost City, the ancient Tayrona civilization, and the current, local indigenous communities & their customs, but also about all the local flora & fauna in the area, and current sustainable & restorative efforts in the park. It seemed that every kilometer or so, Juan Carlos would stop and point out some sort of medicinal/useful plant and explain us the process. I should also point out that Juan Carlos was hilarious! Having the knowledge is only half the battle of being a tour guide, and Juan Carlos combined his informative stories with engaging jokes and playful banter. He really made the entire experience more enjoyable.
Even if Magic Tour Colombia didn't have everything else on point, I would recommend choosing them as your tour company for this reason alone.
I don't want to do any mud slinging, but I heard some questionable stories about various guides with other companies. For example, a certain group, which brands itself as the only indigenous-owned tour company, doesn't offer much of the actual history & facts about the Lost City. They instead tell their groups that the city was "created by the gods." Another person told me that their guide (yet another company) forgot to sterilize their water and the whole lot of them got sick. Just sayin…
The actual ruins
A quick Google image search of "The Lost City" yields semi-inspiring results. They are mostly populated with slight variations of the same exact photo – the view of the round, green terraces with the mountains in the background. While this is no doubt one of the most scenic shots of the Lost City, it is by no means the extent of the ruins.
In fact, because of it's subpar documentation online, I signed up to hike the Lost City with "it's not the destination, but the journey" expectations. I figured, even if the ruins aren't grandiose & awe-inspiring, the overall experience of a multiple-day hike through the wild, Colombian jungle will make it worth it.
However, immediately upon arriving to the ancient 1,000+ stone staircase that leads you from the river's edge up to the ridge of the mountain where The Lost City begins, it's apparent that something truly special awaits at the top.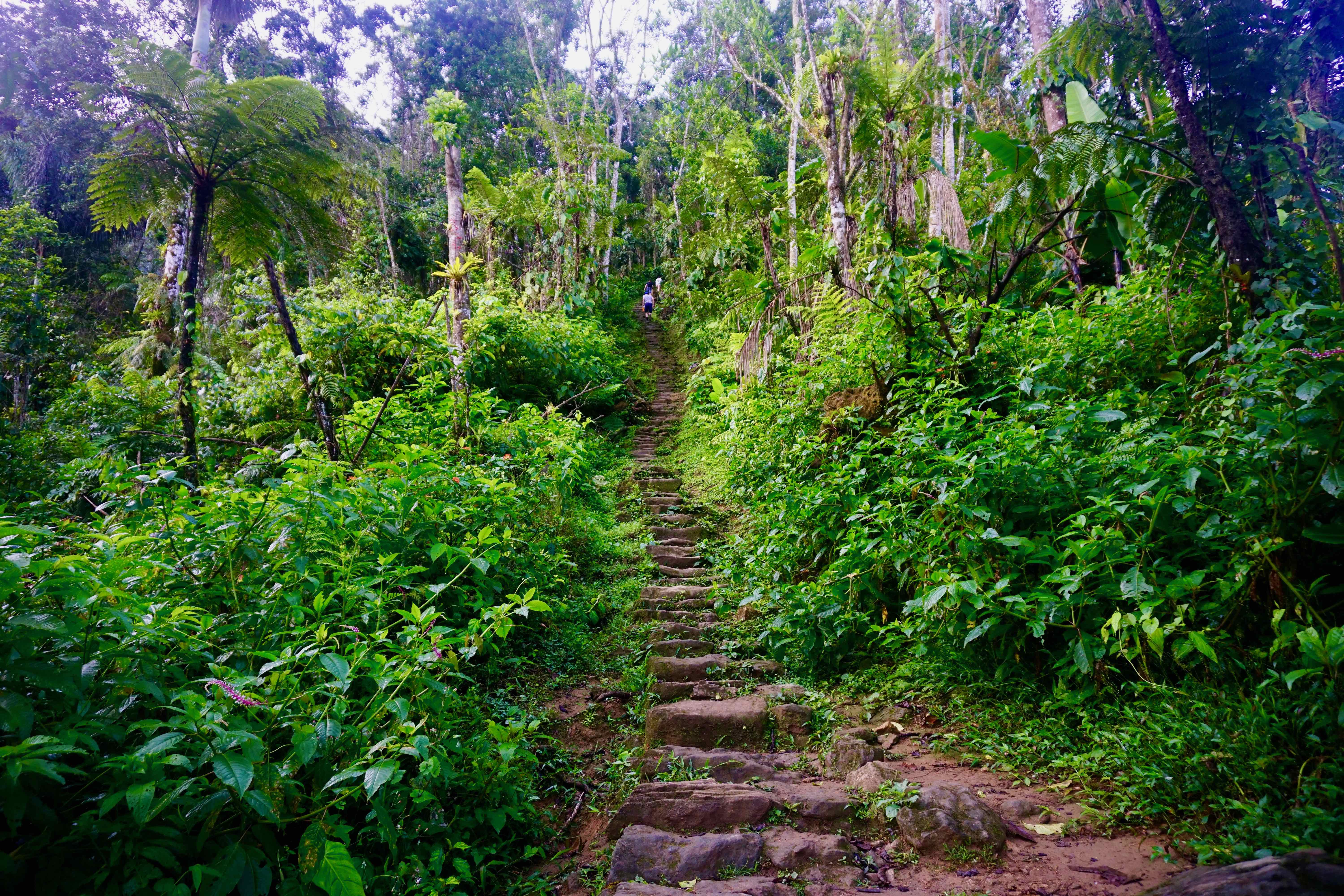 You finally reach the top of the staircase a sweaty, out-of-breath mess, but all is forgotten the moment you crest the ridge and step into this magical, sacred place. Moss-covered walls rise up in front of you. Rustling, verdant trees & swaying vines reveal multiple-layers of terraces & the remains of temples in almost every direction. A myriad of stone paths & twisting staircases lead you up through the forest and around to even more levels.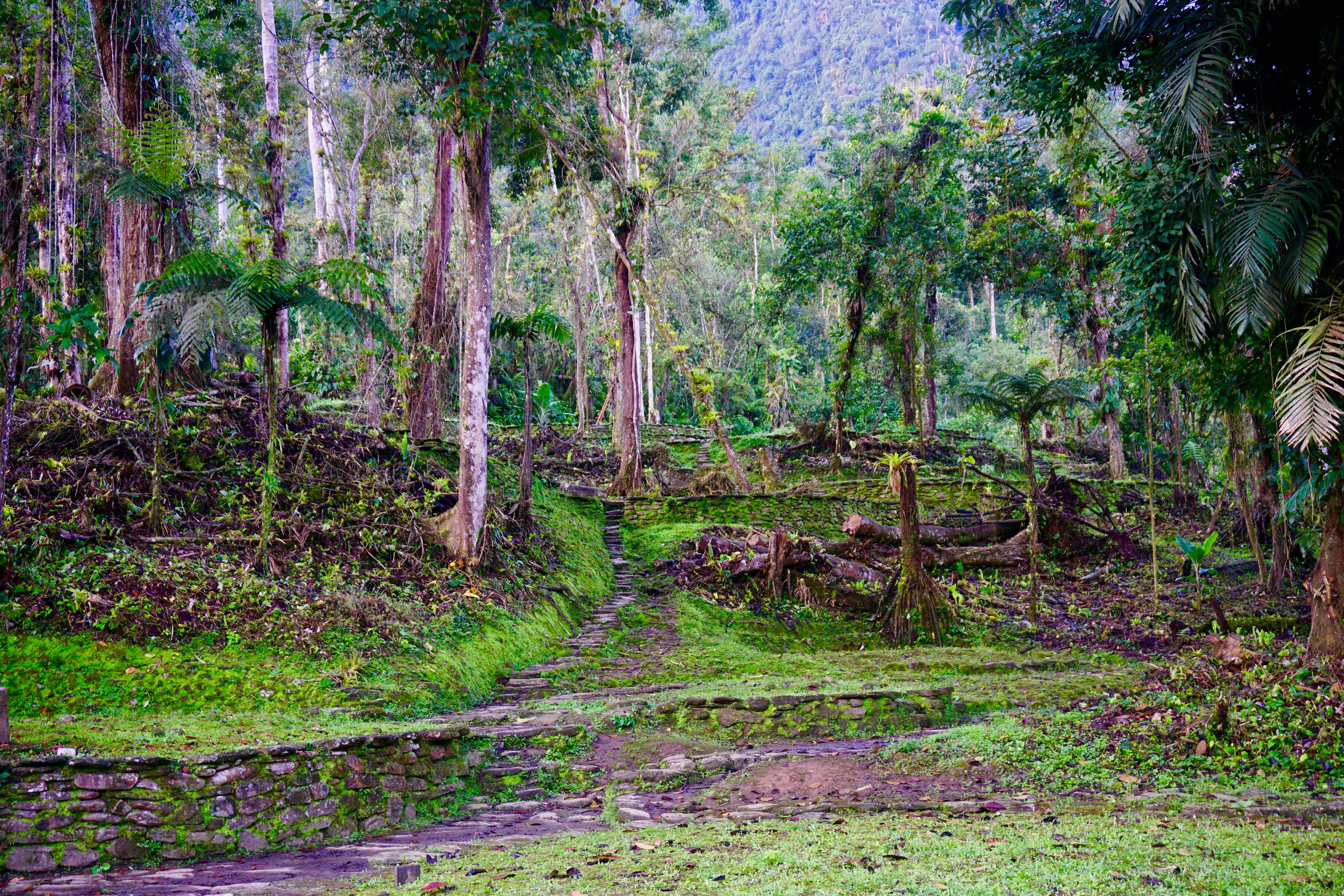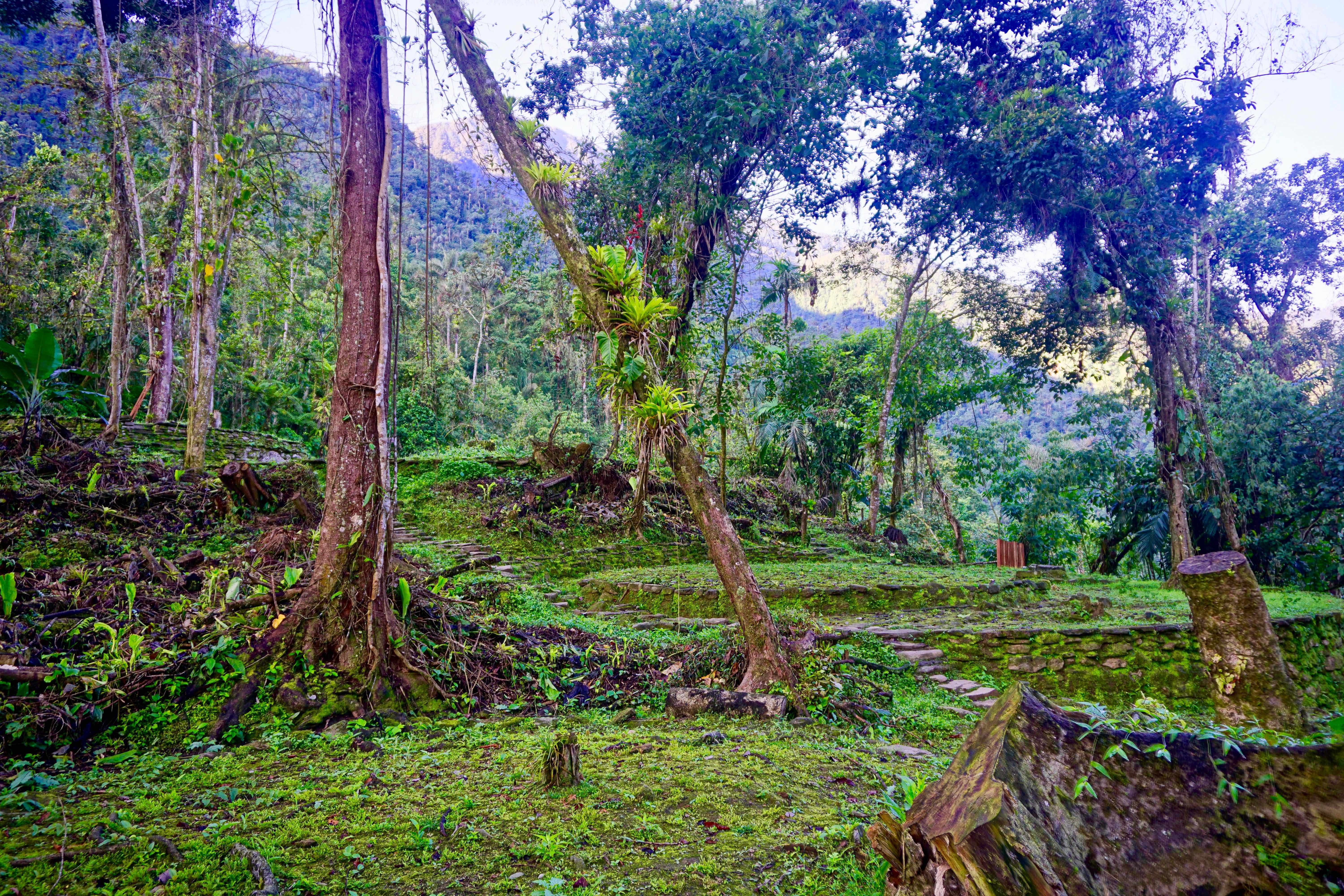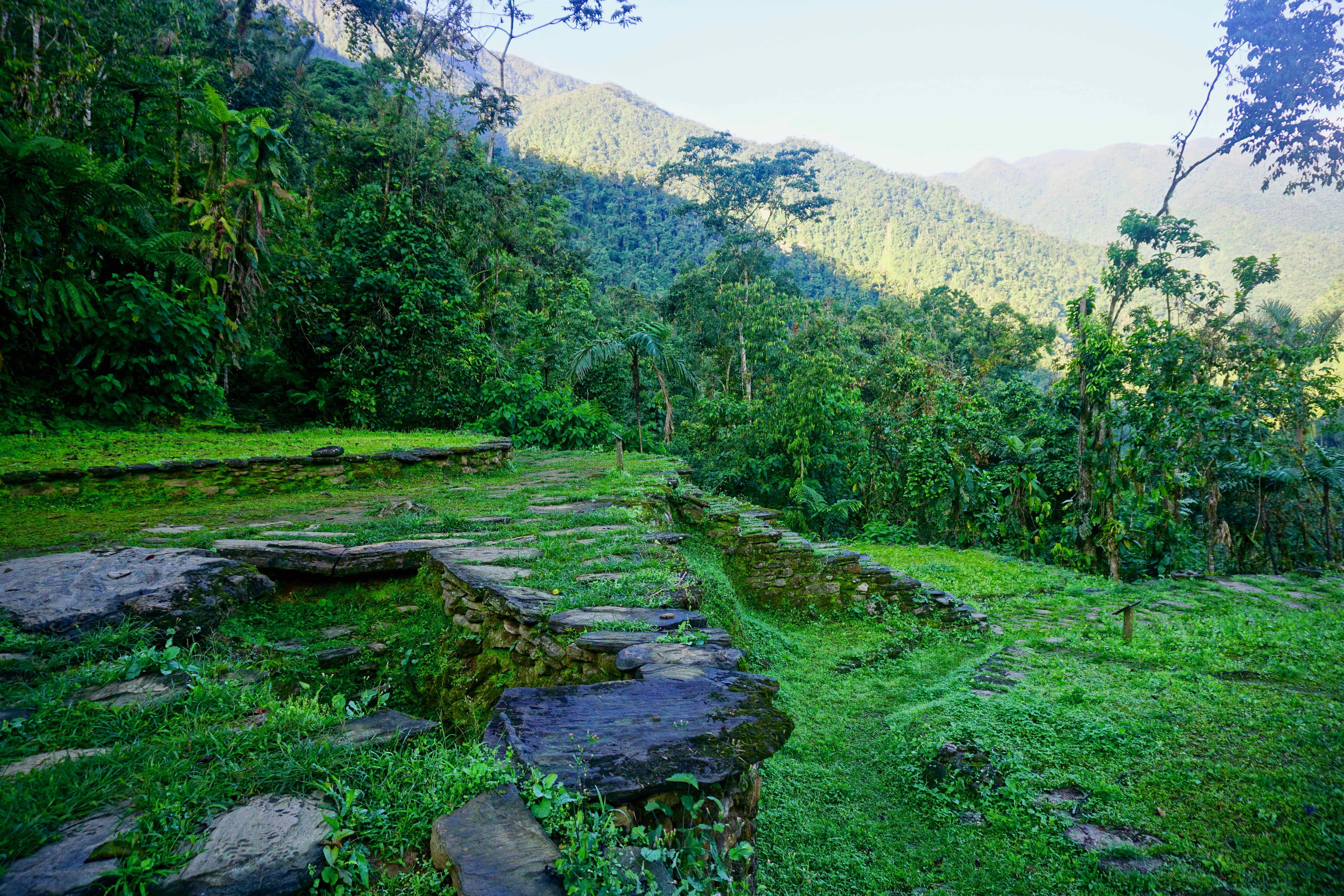 If I had to choose an "OH WOW" moment, it would be when, after climbing yet another mossy staircase, I finally reached the upper levels of the city.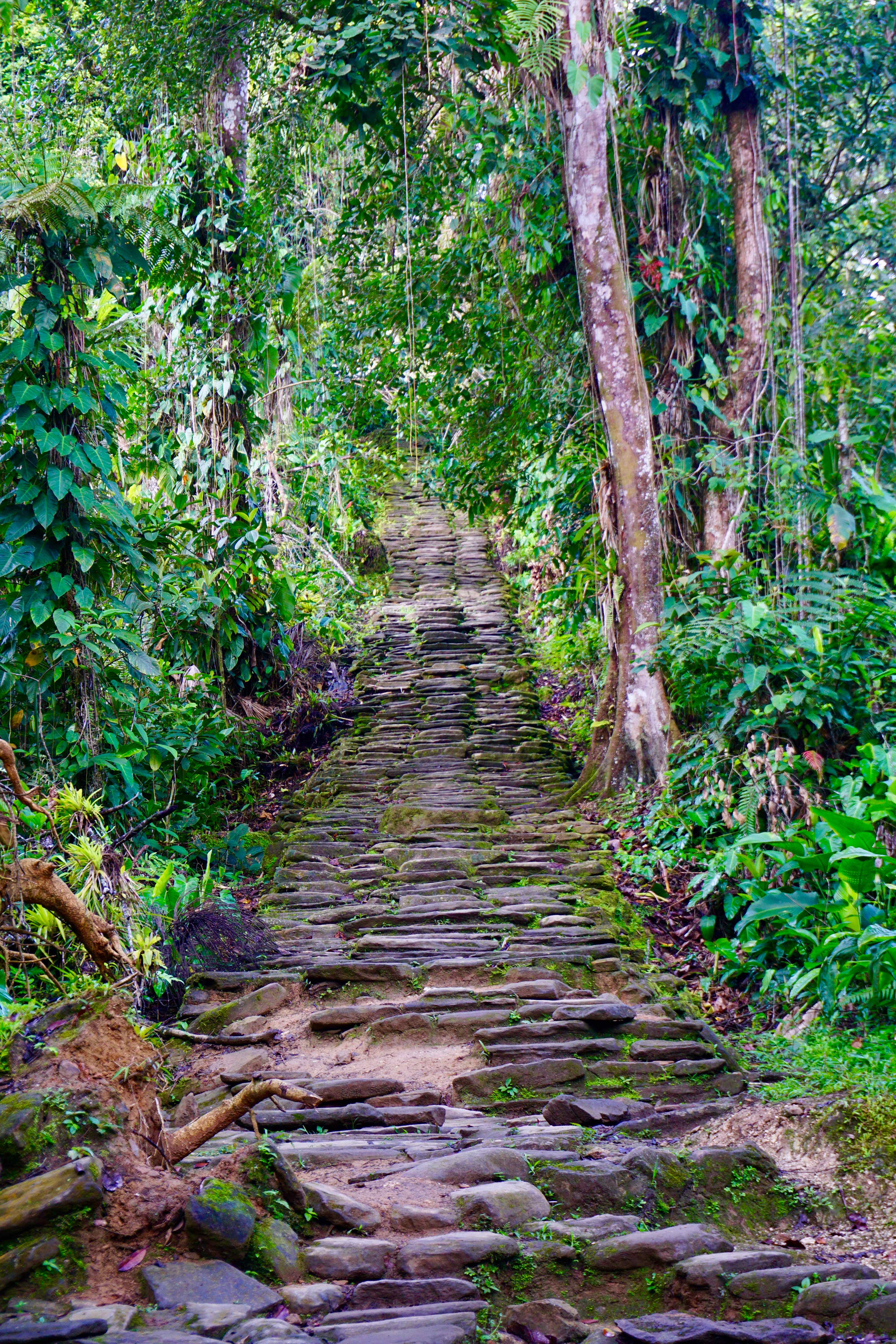 The main terraced area stretched out in front of me, rising level after level up the spine of the mountain, flanked on the left by a cascading waterfall 100's of feet tall.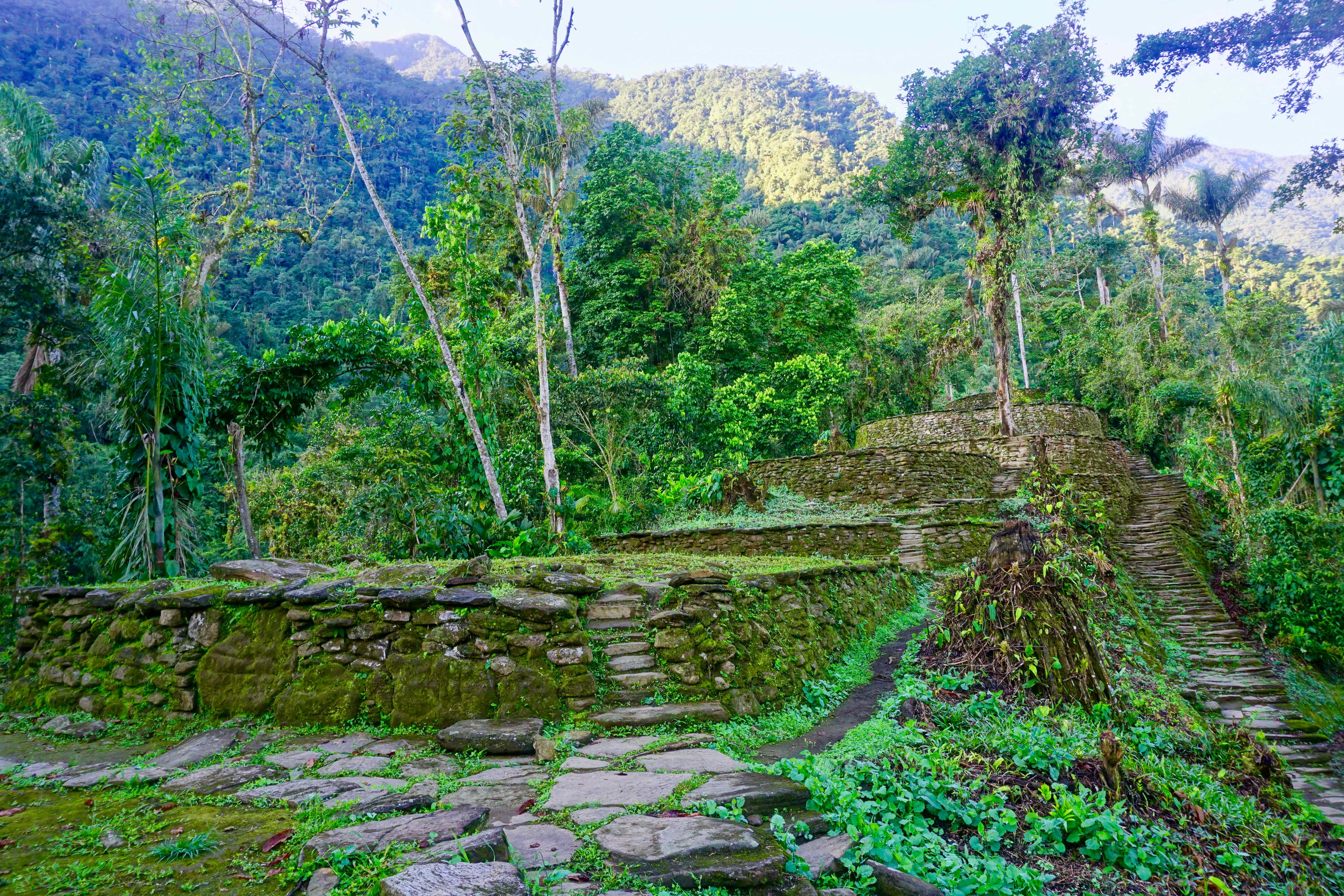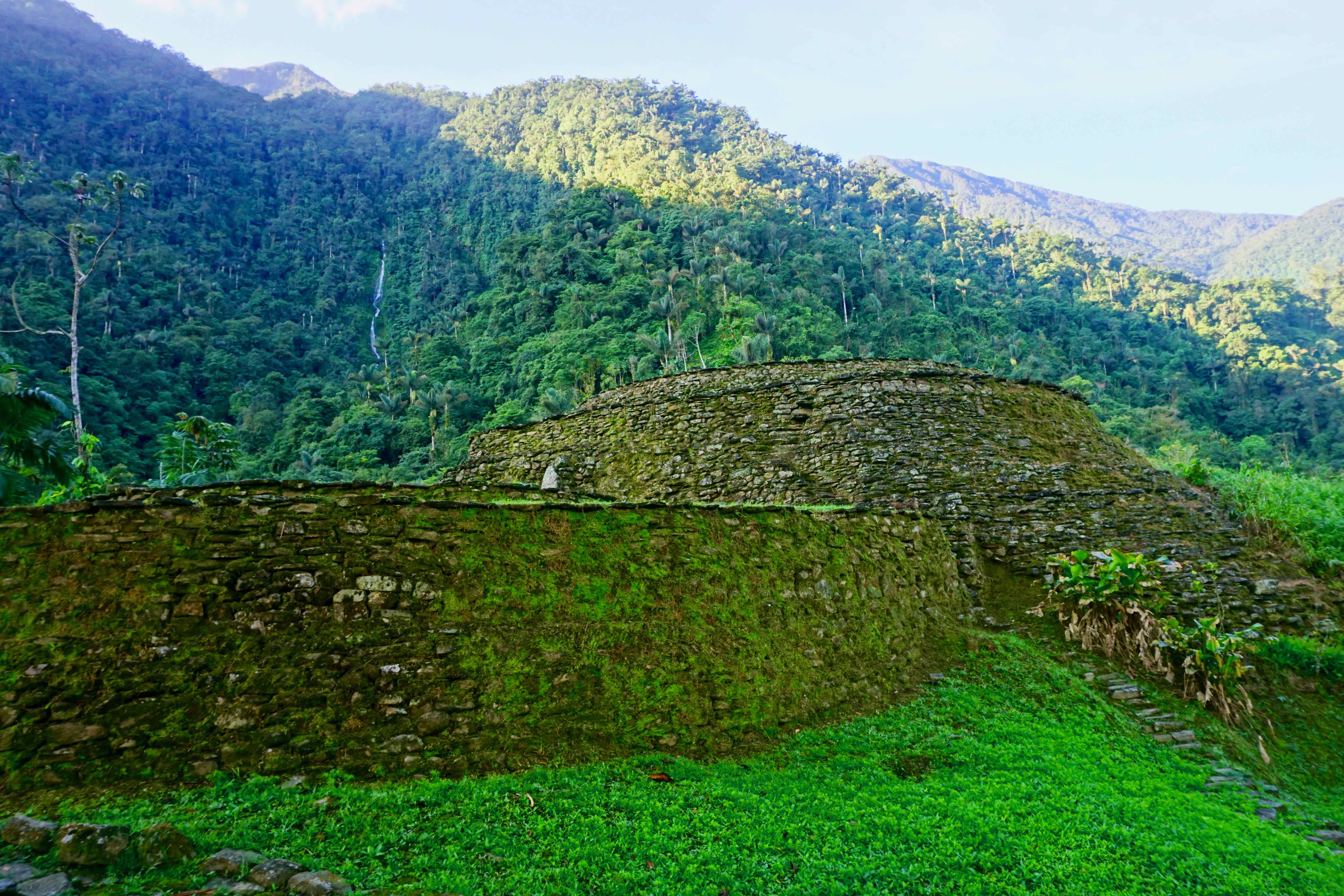 At this exact moment a group of toucans flew through my line of vision and I was instantly transported back in time to the peak of the Tayrona civilization. The buildings reconstructed themselves before my eyes, the bustling city center of commerce came to life with its teeming masses of people, bartering & negotiating, and music filled the air. I seriously lost myself for a moment – what an enchanting & mystical place!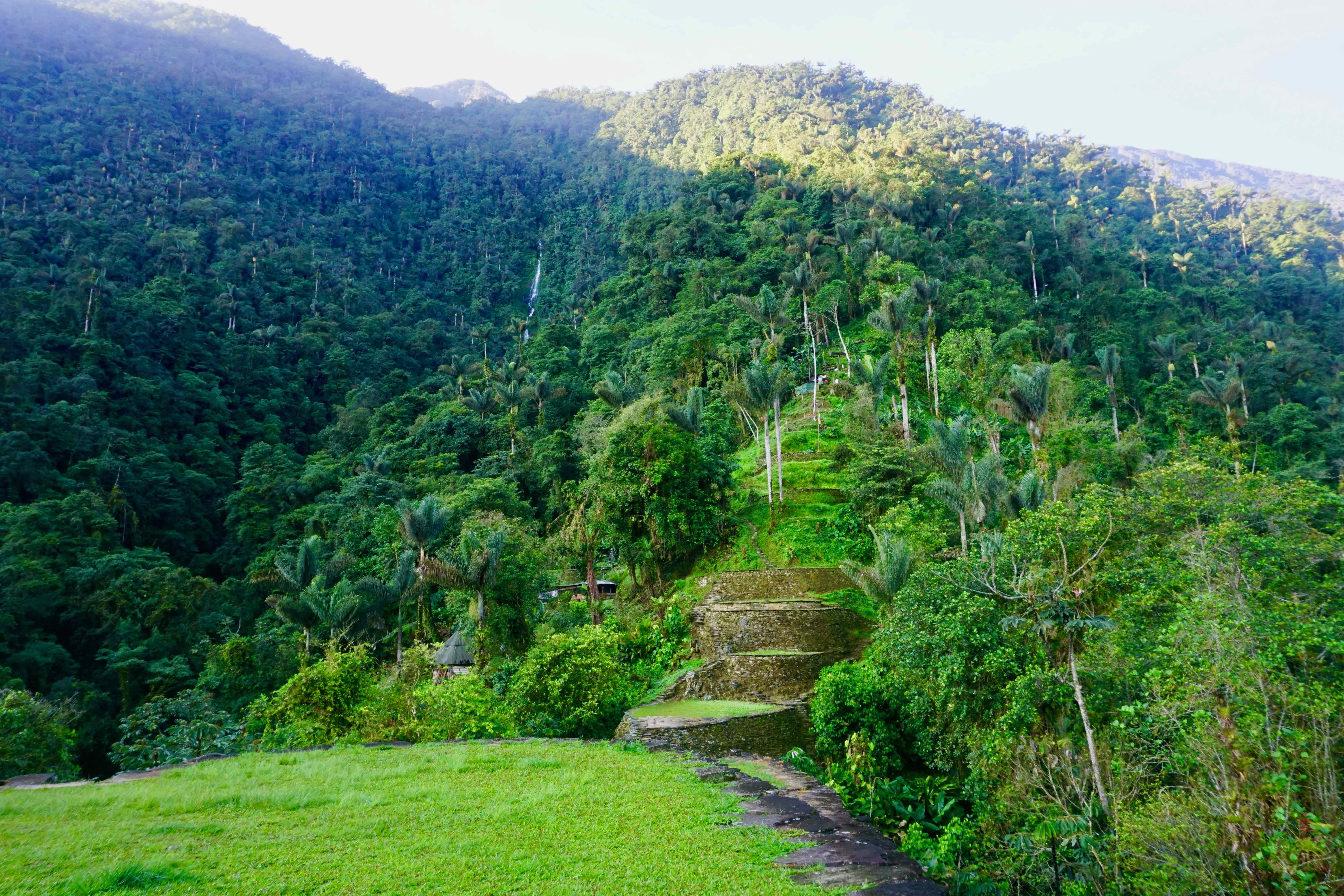 The ruins sit on 86 acres of jungly mountainside, the vast majority of which still has not been uncovered and restored. Apparently, 169 terraces have been excavated, while many more, buried under centuries of jungle overgrowth, still haven't seen the light of day. The extent of the excavated city consists of multi-level foundations of ancient homes, plazas, & temples that hug the mountainside as they fan out & expand from the main area. Our tour spent almost 3 hours wandering through the Lost City (La Ciudad Perdida), and we could have spent even longer.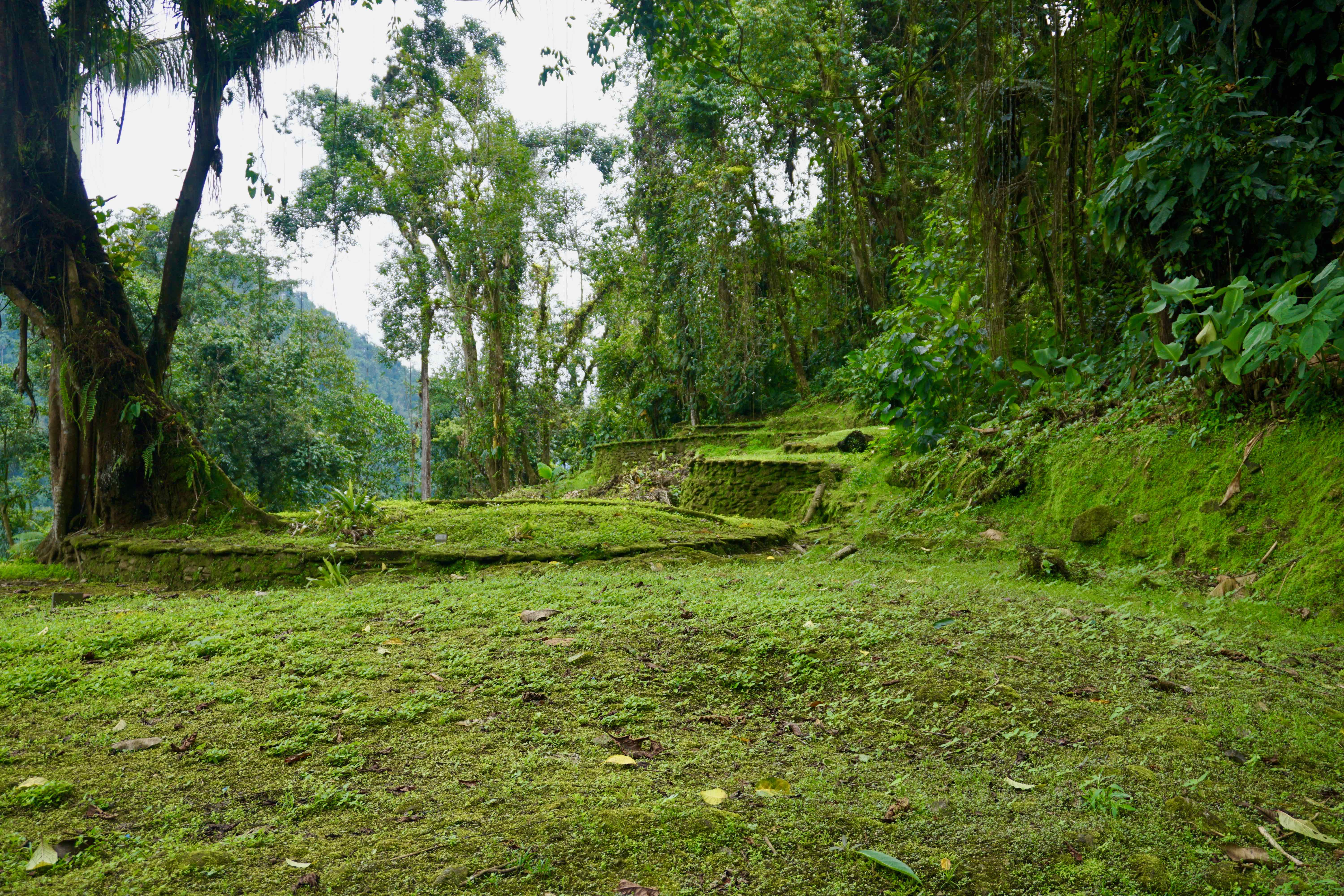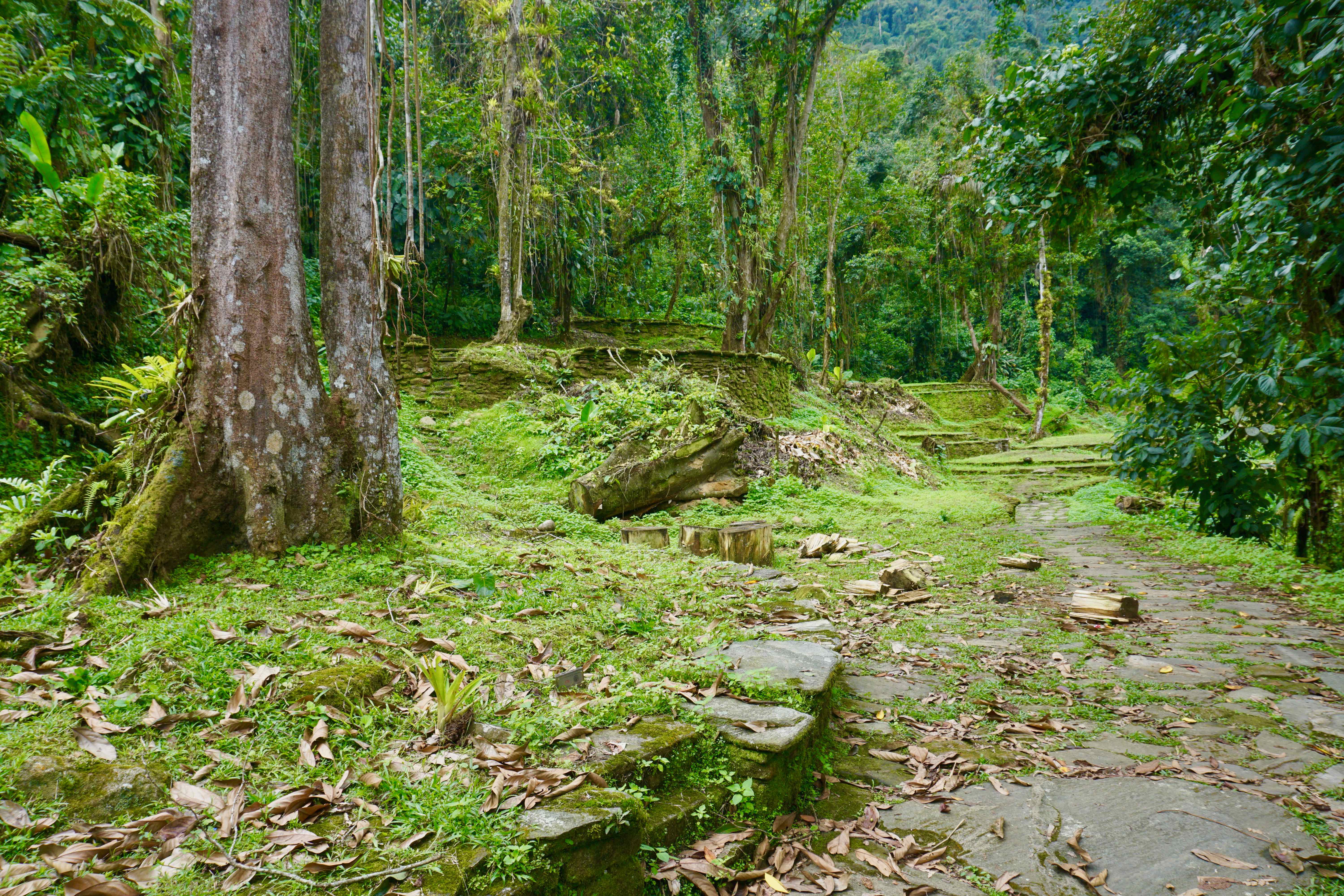 It's still not too touristy
I hiked La Ciudad Perdida during Semana Santa, Latin America's week long celebration of Easter, which is THE busiest time of the year to do anything or go anywhere. My guide told me that there were probably "3 times more people this week than normally." Even so, it wasn't that crowded.
That's because, although the trek to the Lost City is growing on the international radar, it still isn't super well-known and popular.
Apparently La Ciudad Perdida (Lost City) only sees about 9,000 people per year, as opposed to more than a million/year at Machu Picchu.
There's no telling how long it will stay like this though. Juan Carlos told me that every year there are more tourists than the last, and it seems to be just a matter of time before it blows up.
Let's be honest, the idea kind of sells itself. Who doesn't want to want to add finding a Lost City deep in the Colombian mountains to their list of accomplishments? I would recommend going now before it becomes a cliche activity and before hordes of tourists do God knows what to the surroundings.
I also would like to mention that my group with Magic Tour Colombia was THE FIRST group to arrive to the ruins of the Lost City out of about 15 groups that left at the same time. Our guides got our butts in gear the morning of the 3rd day, knowing how important it was to arrive to the ruins before the masses did. Having the entire Lost City to ourselves, if only for 15 minutes or so, was truly special and a feeling that will stick with me for a long time.
You have to earn it
The saying "nothing good comes easy" can definitely be applied to the Lost City trek. Investing multiple days to achieve anything is ultimately more rewarding than instant gratification tasks. So is a multiple day hike to a secluded destination 10x more rewarding than visiting the drive-up, step-out, and take-a-picture destinations. I mean, you don't think the Lost City got it's name from being on the side of the highway, did you?
The feeling you get when you finally sit down on the higher terraces and look out across the main plaza of the ruins, with miles of valley & mountains stretched out before you is difficult to put into words.
You've spent days of strenuous hiking up & over the Sierra Nevada to get here. You've endured the 90% humidity of the rainforest, braved the incessant mosquitos, and hiked through sacred, indigenous territory, all to arrive at this very moment. You've now discovered a city so remote that not even the Spanish conquistadors' probing expeditions led them here. This is all part of what makes the Lost City experience so powerful and memorable. You'll never forget this accomplishment.
So Do The The Lost City Trek Now!
There are plenty of archaeological ruins to explore around the world, but none that I know of that offer what trekking to The Lost City (La Ciudad Perdida) does. Most Mayan or Aztec ruins you can practically drive right up to. And of course Machu Picchu offers the multiple-day hike up the Inca Trail, which I plan on doing, but it's so commercialized these days that it kind of lacks the allure and mystery that The Lost City has.
I also understand that it can be hard to justify spending 4-5 days hiking through the jungle to do anything. If you're the type who doesn't like hiking/camping/not having your first-world luxuries, then this hike is probably not for you. But if you're an adventure junkie or outdoor lover like me, this is an absolute MUST-DO activity. I hope this post has shown you some reasons why!
Go now while trekking to the Lost City is still relatively unknown & unique. Surely in the years that come it will be overrun with tourists and will lose some of its appeal. And go with a tour company that knows what they're doing and values your personal experience, even though they've already done it 1,000 times. Thanks Magic Tour for ensuring that I had the trip of a lifetime, I'll never forget it!
Essential Info:

Phone/WhatsApp: +57(314)571-3645

Email: fanny@magictourcolombia.com

Cost: 850,000 Colombian Pesos (approx. $290USD at time of publishing). Includes all transport, all food, accommodations, guides, translators, and entrance to park for 4,5, or 6 days.

What to pack: Not much! The lighter your pack the better. All of your clothes will get completely wet, so there is no real need to bring a lot: 2x of quick-drying shirts & shorts, 1x of long pants & long sleeve shirt for night time, 3x underwear, 3x socks, 1x hiking shoes, 1x sandals. Hat, sunscreen, bug repellant (DEET), headlamp/flashlight, dry bags for electronics, sunglasses, hand sanitizer, and obviously all necessary medication & toiletries.

When to go: The dry season runs from December to April, but going in the "off-season" could mean cooler weather, far less people, and more of a chance to connect with locals.