They say that you're either a mountain person or a beach person.  Now I don't be discriminatin between the two, but one thing is for sure – this past summer's epic roadtrip around the USA was all about the mountains.
I confess that I had never even heard about Glacier National Park until the past few years. Everyone knows about the mountains in Colorado & California, but Glacier National Park in Montana?  Not so much.
But after spending a full week there, and nearly 2 months zig-zagging down the spine of the US Rocky Mountains, I am publicly declaring Glacier National Park to be the most beautiful stretch of land that I have ever laid eyes on in the country.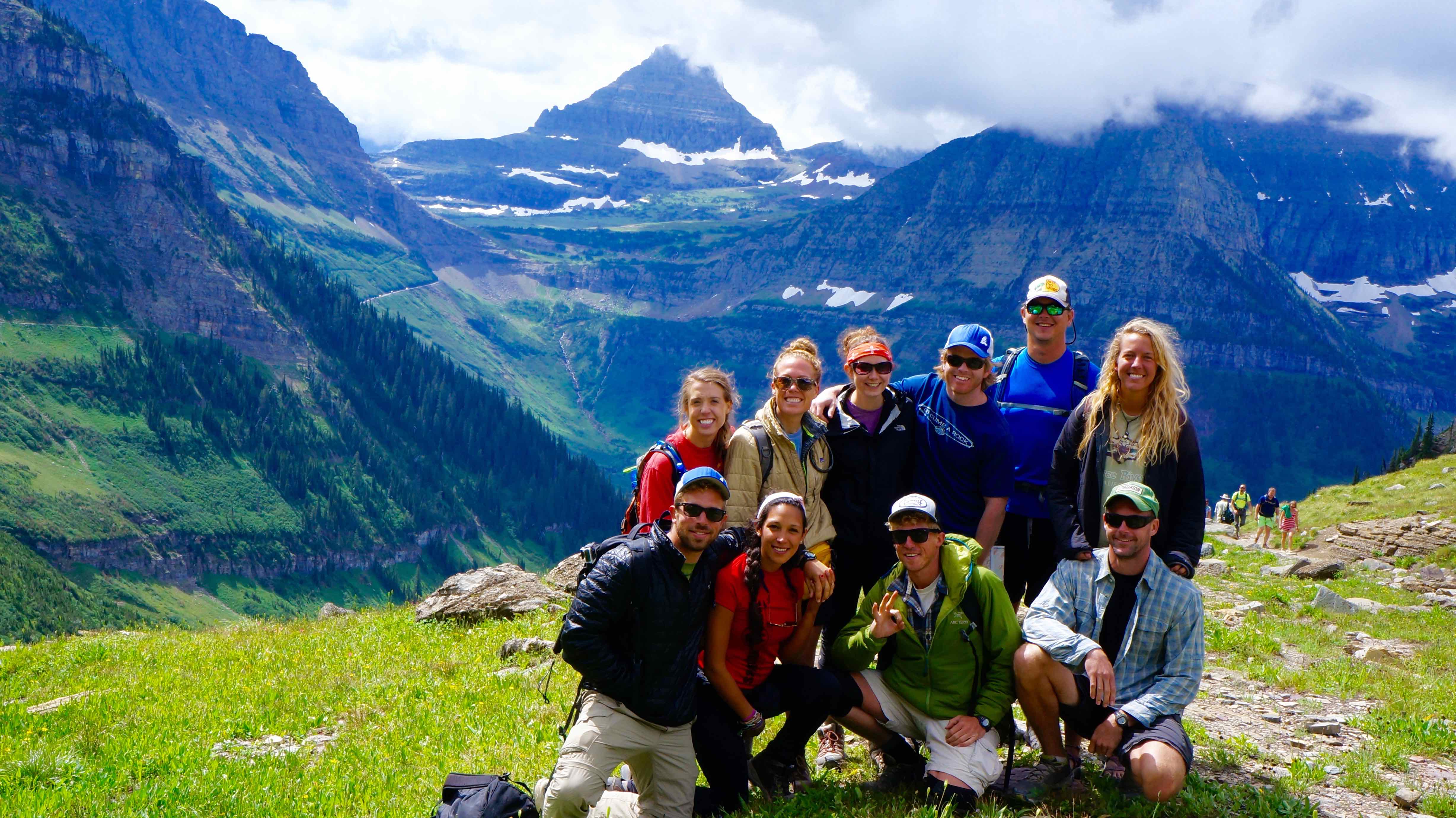 "The Crown of the Continent"
George Bird Grinnell gave Glacier National Park this nickname in 1901, and for good reason. Glacier National Park displays some of the most spectacular glacier-carved terrain anywhere on the planet.
Even though the mountains in Glacier NP aren't as tall as some other sections of the Rockies, these massive glaciers have been chiseling away to form majestically crooked peaks, drastically vertical valleys, and deep blue, crystal-clear lakes for millions of years.  But don't just take my word for it, have a look for yourself at the Crown of the Continent:
The Mountains
The Lakes
The Glaciers
The Wildlife
The Rivers
The Alpine Meadows
Ok, looks beautiful, but why the rush to see it?
Unfortunately there is a call to action with this post, and that call is to go visit Glacier National Park as soon as possible!  Everywhere from The Weather Channel to USA Today have been consistently putting Glacier National Park in their lists of amazing destinations that will soon change forever.  The main reason?
The Glaciers Are Melting
…and at an alarming rate.  The U.S. Geological Survey has identified that only 26 of the original 150 glaciers in the park still exist today, and some scientists believe that there will be no glaciers left by 2020.
We saw multiple glaciers from afar, but took the opportunity to get up close and personal with Grinnell Glacier overlook.  We sweated & slipped our way up the brutally steep path to get a look at this prehistoric ice monster.  But once we finally laid eyes on her, it was both breathtaking & sobering at the same time.  Grinnell Glacier is still stunning, but clearly a remnant of what it once was.  Don't believe in climate change?  Take a look below:
But it's not just glaciers melting, but also the…
Pine beetle spreading
Along with mosquitos, the pine beetle is one of those creatures that makes you ask yourself, "Why couldn't have Noah just left these guys off the ark?"  I'm sure they occupy some obscure but vital part of the food chain, it just seems as if life would be better off without the pine beetle.
Over the past few decades, this nasty bug has been decimating trees all up and down the Rocky Mountains, leaving millions of acres of dead pine trees.  There are few things more disappointing than huffing & puffing all the way up a mountain, just to crest the ridge and discover a landscape filled with barren, dead-looking trees that stretch on into the horizon.
These pine beetle wastelands aren't just visually-annoying, they also multiply the risk of…
Increased forest fires
When you combine thousands of acres of dead & drying trees with the warmer temperatures and snow melting earlier every year, you get bigger and nastier fires.
Thank God we visited the park in July, because literally the week after we left the Reynolds Creek Wildland Fire broke out & quickly engulfed entire sections of the park.  Much of the park was evacuated, reservations were cancelled, and many summer plans ruined.
Of course nothing like this can be predicted, but with studies showing that both fire frequency & documented burn areas are increasing, it's probably best to visit Glacier National Park sooner rather than later.
Loss of Alpine Meadows and Wildlife
The tree line can be found at the unique intersection where soil, elevation, & wind factors prevent the trees from growing farther up the sides of mountains.  As spring comes sooner every year, seedlings are spreading farther and the tree line is rising.  Alpine meadows are turning into new growth forests, and therefore, endangering the natural habitat of animals such as the wolverine, mountain goat, pika, etc…
It's More Crowded Every Year
In 2014, more people visited National Park Service sites than any other year in history – 292.8 million people to be exact.  2014 was also a record breaking year for Glacier National Park in specific.
The point of national parks is to go & experience nature at it's finest, and masses of shutter-clicking tourists walking around & taking selfies can only detract from that experience!
So What Should You Do in Glacier?
Here's what we did: 
(photos of some of these activities at beginning of the post)
Going-to-the-Sun Road – must be driven to access most of the park.  Buckle up!
Hidden Lake Overlook hike, and down to lake shore – where we saw the grizzly bears!
Highline Trail – Logan Pass to "The Loop" 12 mile hike – one of most scenic hikes on Earth
Grinnell Glacier Overlook – off of the Highline Trail, strenuous climb but worth it.
St. Mary's Lake – a scenic lake to relax all day in the sun & contemplate the view
Running Eagle Falls – the river shoots straight out of the rock, and you can cliff jump
Whitewater rafted & fished the Flatwater River – we floated the chill, Middle Fork section
Where we stayed: 
(all campgrounds can be reached via Glacier Park switchboard at +1 406-888-7800)
Avalanche Creek campground – wake up in the woods & take a short hike to Avalanche Lake with coffee in hand
Rising Sun campground – massive campground with access to general store & restaurant, right across the street from St. Mary's lake.
Two Medicine campground – hard to get to but, you guessed it, next to a gorgeous lake!  Their informative ranger talks are fun too.
Fish Creek campground – conveniently located near Lake McDonald and main entrance to park
Resources for Planning Your Own Itinerary
Visit Glacier National Park Before It Changes!
These aren't scare tactics.  This isn't a sales pitch.  I'm just passionate about sharing amazing places with other people.  Especially if those places are in danger of changing forever, then I want to communicate a sense of urgency.  
There is no doubt that climate change is quickly and negatively affecting the beauty & ecosystem of the park, so take advantage of living in 2015 and go visit Glacier National Park while it still has glaciers!  Sadly, we may be part of the last generation that actually has that opportunity.
If you have any other questions about Glacier National Park, thoughts about climate change, or suggestions on more activities to do in the park, please let me know in the comments below!