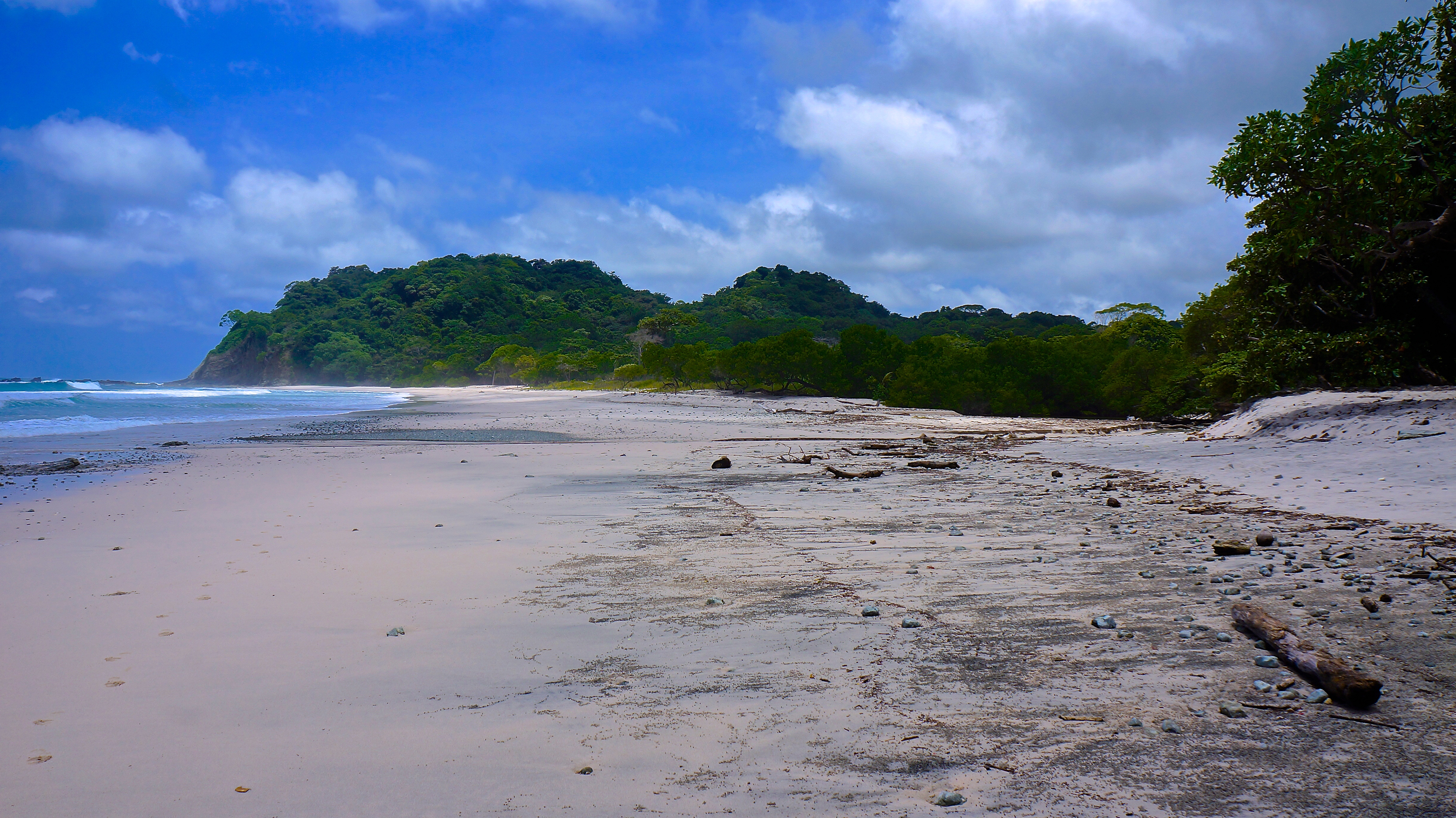 When you think of Costa Rica, you think of the beach.  Sure you've got the rain forest, the volcanoes, the monkeys, & the rivers, but most people go to Costa Rica to get some serious beach bumming in. In fact, Costa Rica beach vacations are so advertised & common these days, that I didn't want to write this post at first.  There were 14,300,000 results when I Googled "Costa Rica beaches," so it's actually a pretty dumb idea for me to spend my time in creating the 14,300,001st.
So why am I doing this then, you ask? Because I truly feel that I have found the most beautiful beach in Costa Rica.  I lived in Costa Rica for about 8 months & visited my fair share of beaches, & I think I've found the holy grail.  In the province of Guanacaste, out on the Nicoya Peninsula, a few kms to the north of the beach town Sámara, you'll find Playa Barrigona.  The perfect combination of beauty & tranquility, but also adventure.
I say "adventure" because getting to this beach is a journey in itself.  Let me make this clear – getting to Playa Barrigona is NOT easy. You'll need detailed instructions on how to find it, and I never would never found it if I didn't have some locals to show me the way. I'll be your "local" in just a minute & tell you how to get there, but first let me describe why you should go in the first place.
Why You Should Go to Playa Barrigona
To get a tan, and be like, hotter….duh!  
Just kidding.  The real reasons are below:
The water – super blue & clear, great for swimming/snorkeling etc.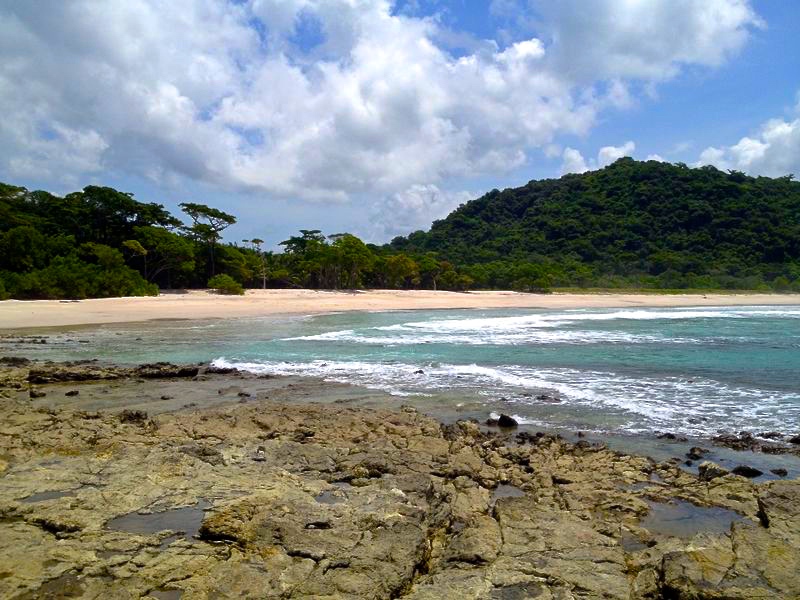 The sand – light-colored & powdery, squeaky & clean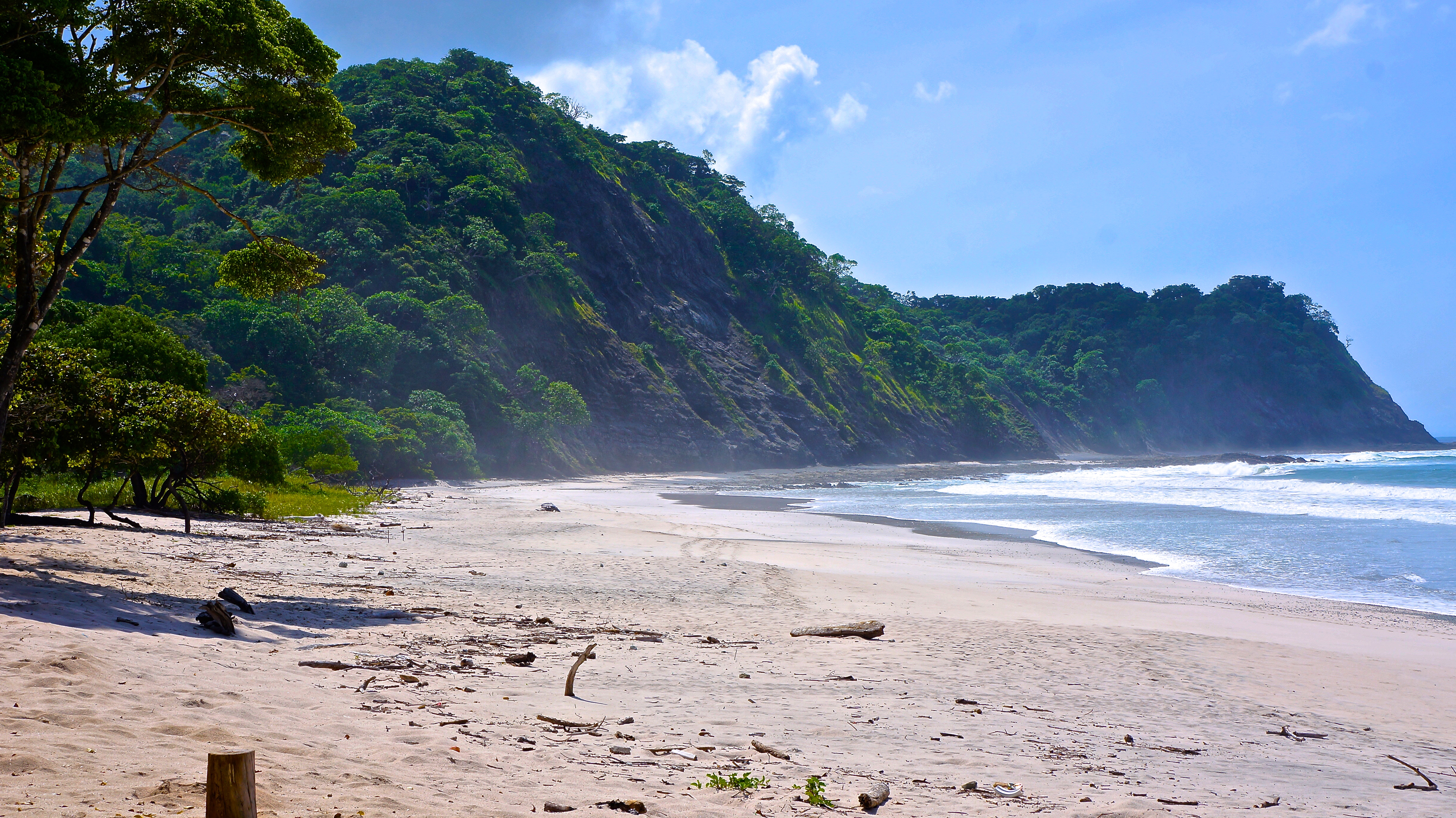 The waterfall – yes, there is a waterfall that gushes down onto the beach from the mountains, especially in rainy season, & provides a fresh water source
The waves – surfer's paradise, tasty tubes & bodacious barrels all day long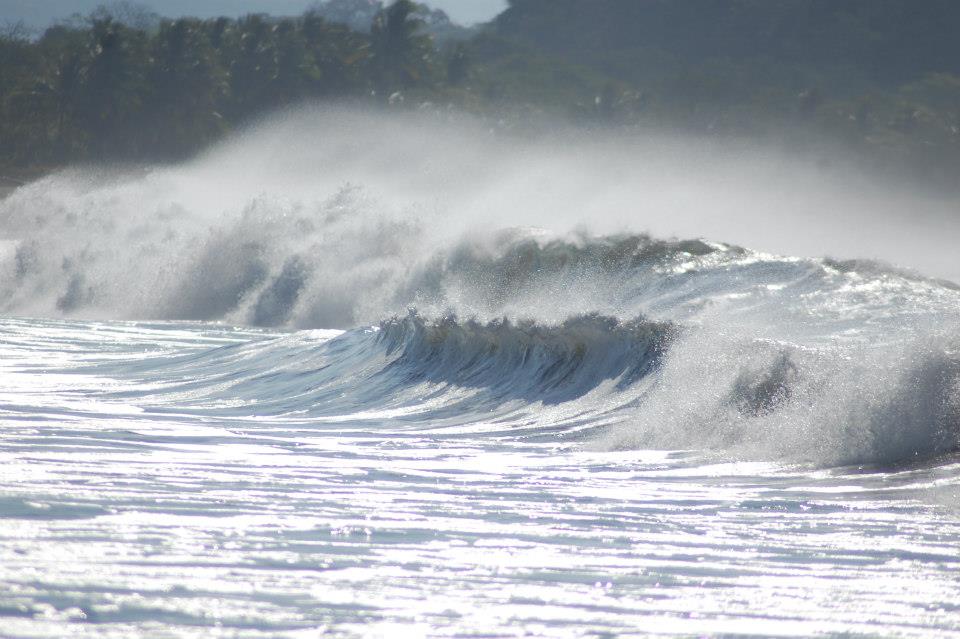 The seclusion – high possibility of you being the only soul in sight, which can be hard to accomplish in Costa Rica
The landscape – the beach is flanked on both ends by towering cliffs with luscious vegetation & trees that grow in weird angles towards the sea
Mel Gibson – a beach so beautiful, he himself tried to buy the whole thing a few years ago & got in trouble.  He settled instead by building a 500 acre retreat in the mountains above the beach, & now he's trying to sell it.  From what I understand, he hasn't sold it yet, so if you bump into anyone on Barrigona, it might be Braveheart himself
Directions on How to Get to Playa Barrigona:
There are two buses you can take from San Jose that will get you close to Playa Barrigona:  the bus to Sámara – most common & popular, & bus to Nosara – more "direct" service to Playa Barrigona.  From my memory there are 2 buses that depart to Nosara each day, and about 4 a day to Sámara.  Schedules & times can be confirmed using this website.  It is not easy to get to Playa Barrigona, & after reading the following instructions, you might start wondering if it's worth all the trouble – but trust me it is. 
Via bus to Sámara
This is the most common route because Sámara is a fun beach town with good parties, so most people will want to spend some Pura Vida time there anyways.  Playa Barrigona is 2 beaches to the north of Sámara, and can be walked on the back/dirt roads in about 1 ½ hours IF it is not the rainy season. This route includes multiple river crossings, that would either 1) not be possible during the rainy season due to gushing currents, or 2) not advised due to caiman crocodiles.  As you're walking along the roads, ask anyone you see "Como llego a la Ferreteria Coyote?" (How do I arrive at Ferreteria Coyote? – a local tool store), and they will point you in the right direction.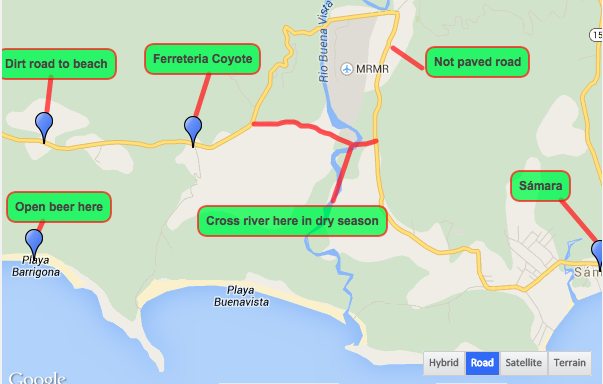 During the rainy season, you will have to take a taxi to Playa Barrigona via Highway 150, which will cost about $15-20.  The taxi will drop you off at the dirt road that leads to the beach & borders Mel Gibson's ranch.  You'll need to walk the final 15 minutes down the road to the beach, because it is horribly washed out & inaccessible to cars that aren't 4×4.
Via Bus to Nosara
The more "direct" bus, especially if you are not planning on going to Samara, would be the bus that departs from San Jose for a town called Nosara.  Playa Barrigona is located in between Samara & Nosara, & you'll know you're getting close when you stop at the gas station located at the big Y-shaped fork in the road – left goes to Samara, right goes to Nosara.  After your bus forks right, you'll continue a few more km's & you will want to get off at the Barco Quebrada bus stop, which is nothing more than a bench & a roof (be sure & tell the bus driver you want to get off there!).
[mappress mapid="5″]
After you get off & the bus rolls on down the paved road, look behind you & you'll see a restaurant named Black Marlin that is on the corner of a dirt road.  You're going to take the dirt road (you already guessed that right?) for maybe 2-3 km's by walking or hitchhiking.  Continue until you see a massive fenced-in farm on your right with cattle grazing through bright green pastures.  That is Mel Gibson's pad.  There are cameras everywhere, so don't even think about trespassing & trying to "bump" into him – he's probably not there anyway.  Just keep walking until the fenced pastures stop & there will be another dirt road to the right.  Take that road, you're almost there!  15 more minutes walking will take you through some mud holes & up & over one last hill, before hitting the beach & arriving in paradise.
Camping or El Castillo?
If you want to fully decompress & disconnect from the world, Playa Barrigona is certainly worth a few days of your time.  Unless you are willing to drop some money on taxi's shuttling you back & forth between Sámara & Barrigona (could be cheap if shared with other people), you will want to either:
Camp on Playa Barrigona (highly recommended)
Stay in my buddy's hostel in Playa Buena Vista – El Castillo
Camping
The best place to camp is at the north end of the beach, where the trees provide a comfortable shade & the sand never felt softer.  The waterfall is located on the southern end of the beach, so you will have to make periodic trips to refill on water, take baths, etc.  The beach is small so it's not a big deal.
The trees are spaced perfectly for hanging hammocks, clotheslines, & stringing your food up, & you'll start to wonder if this is the best camp site on earth.  Watching Pacific Costa Rican sunsets from the comfort of your hammock probably added 5 years on to my life. Disclaimer: Don't leave anything valuable on the sand throughout the night, or you may wake up to it destroyed by hermit crabs.  My brother's towel from Brazil was thoroughly chewed up by the hundreds of crabs that come out at dusk/night.  They are fun to watch though!
Staying at El Castillo Hostel
My buddies who showed me Playa Barrigona run a hostel on the northern corner of Playa Buena Vista.  It's just to the south of Barrigona, around the corner, and is a secluded hostel that the non-camping crowd can stay at.  "The Castle" was built in the 80's out of sand from the beach by a German hippie, later abandoned after many psychedelic parties, & since adopted & renovated a bit by some of my friends from Gringolandia.
The hostel is now run by a guy named Chico, probably the coolest Costa Rican dude in Guanacaste.  Rooms in El Castillo are pretty cheap, running about $10-15 a night, but that price includes Chico's friendship – which opens up a world of opportunity.  Chico loves surfing & has boards to rent for dirt cheap.  He regularly supplements his diet with his latest spearfishing catch, & can show you other hidden treasures like waterfalls & wildlife.  Furthermore, for a few bucks, you can arrange Chico to come pick you up from Sámara on his motorcycle, and could solve some of your transportation problems.  El Castillo is located at the end of the same road that the Ferreteria Coyote is on, and Chico's cell phone is +506-8355-6146.
[mappress mapid="6″]
My Kind of Beach
Everyone has their own preferences in what makes a beach beautiful – the surfer would be looking for the biggest waves, the scuba diver would be looking for the best coral, the family might prefer something easily accessible with lifeguards & safety precautions, or the 19-year old party girl would be looking for great nightlife & activities on the beach.
I well understand that my definition of "most beautiful beach" may not be the same as yours – and that's okay.  But if you're truly looking for an off-the-beaten path experience, instead of just claiming that's what you love like most travelers, then Playa Barrigona will not disappoint.  Please go see for yourself & let me know what you think, or write me if you have any further questions.
Happy exploring & Pura Vida!