"How do you travel so much? Did you win the lottery or something? How do you have so much money to travel?"
People ask me these questions often, and I always answer the same way – something along the lines of – "It's not that hard to, no, and I don't."  Now – I'm going to write a more comprehensive & complete article later about travel tips and tricks, but I wanted to make this quick list to show you some destinations that you can go to tomorrow and not break the bank. These are not necessarily the 10 cheapest countries in the world, this is just a list of the 10 cheapest countries that I've been to, and some real-life, true-story prices that I paid during my travels. Some of these prices I haggled & worked for, others I found just because, well, I was in that country. It's not a big secret, it's just a matter of knowing, and to quote one of my childhood classic cartoons G.I. Joe, "knowing is half the battle."
Cambodia
Ever heard of those Angkor Wat temples? Yea, you can get a 3-day pass for $40. For less than one day's admission to Disney World, you get to explore the most spectacular temples on the planet until you're sick of doing it. How much would you give to be Indiana Jones? $40? I know I did, and would again.
Sihanoukville is a growing, beach-side destination in southern Cambodia that is known for it's wild parties and being the port city to access the exotic islands of Cambodia. My brother and I paid $7 for a hotel room with 2 beds and bath.  Hungry? Go to the restaurant Happy Herb Pizza and order a large for $10 – enough to make 3-4 people very happy. The 2-hour boat ride out to Koh Rong cost us $8, and speaking of Koh Rong – we didn't even pay to stay out there. This stunning, mostly-still-undiscovered island has plenty of places to camp for free. If you don't have a tent or hammock to sleep in, where else have you found island-bungalows for less than $10 a night per person?
Indonesia
Indonesia is MASSIVE, and has more than 17,000 islands. The 3 islands that we went to (Bali, Gili, Lombok) have THE most touristy places in all of Indonesia, and we still couldn't believe how cheap the prices were. I can only imagine how cheap Indonesia is when you get off the beaten path.
We did not spend more than $12/night for a hotel room in Kuta (the most expensive city on the most expensive island in Indonesia), and I believe we paid $25 a piece to rent motorbikes FOR A FULL WEEK. Speaking of motorbikes, you want to know the best part? THE GAS. Gas was $0.50/liter when we were over there, or about $2.00 a gallon. Indonesia's government subsidies the gas for their people, and we rode all over Bali/Lombok like motorcycles were being discontinued worldwide – just watch out for the cops.
But perhaps the prices that surprised me the most in Indonesia were the prices of the food.  Our favorite type of restaurant was the nasi padang restaurants, where there are buffets with a wide assortment of meats, vegetables, rices, etc. to choose from. I'm a self-professed glutton, so I always come out on the wrong side of the deal with these things, but not here my friends. After piling my plate full of whatever looks good, I was always surprised to pay 10,000-20,000 rupiahs every time ($1-2). If you go to Indonesia, make sure your fat ass goes for a run from time to time.
Or, you can combine all the eating with some healthy, outdoor activities, which Indonesia is renowned for.  My bro & I once went to Gerupuk, a little town where we rented surfboards, a boat with a driver to take us out into the bay where the best waves were, and surfed for 3 hours for 80,000 rupiah.  Furthermore, about $80 is what it cost us for a 2-day excursion up Gunung Rinjani, the 2nd tallest volcano in Indonesia, but maybe that's because we did it illegally.
Bolivia
Bolivia – land of cheap, extreme adventure. The Boliviano is about 7 to 1 dollar, but believe me when I tell you that the thrills of your life won't cost you too many Bolivianos.  For example:
– 3-day Amazon basin tour w/ crocodiles, monkeys, piranhas, anacondas, capybaras, etc. – approx. 700B's
– Mountain biking world famous "Death Road" with all equipment provided – 200 B's
– Guided 3-day tour hiking up a 6,000m (20,000ft) mountain with all equipment provided – 600B's
– 3-day tour to Uyuni salt flat, red lagoon, high Andes geyser, blue lagoon & more – $1,000B's
If you aren't the adventurous type, there's still plenty of other ways to stretch your boliviano in Bolivia with hostels in La Paz costing around 50B's, meals for 20-30B's, and not to mention the cheapest, and best-quality alpaca-fur clothing in the world. Gringos get stuck with a $135 VISA fee to enter the country, but that's a small price to pay for what you can find within.  Note: No links to tour websites provided because it is best to research, & book tours in Bolivia.  
Vietnam
Vietnam is an amazingly diverse country, with no shortage of fun things to do. Actually, in Vietnam, even going to the ATM is a blast. The Dong (that's their currency, perverts) is about 21,000 to the dollar.  I used to go to the ATM just to check my balance. Seeing all of those digits and commas next to my name had an intoxicating effect on me, and I would sit there and grin like an idiot until someone asked me if I was done yet.
Anyways, when you finally do leave the ATM, you can put those Dongs to good use in more ways then one (had to make another dong joke). Meals like Pho & other rice/noodle dishes in big cities will cost you 20-30,000 dong, hostel dorms will run you a solid 100,000 dong, and it's possible to find beer for 5,000 dong.  Seek out the bars who have Bia Hoi on tap – an in-house brew that many bars/restaurants carry that will cost you a whopping $.25.  Best quarters I've ever spent in my life.
Regarding some of the popular things to see, and it's possible to get these tours cheaper, but we paid about $100 for our 3-night, 2-day Sapa tour, $150 for our 3-day Halong bay tour, and bought a jump-on, jump-off bus that literally took us through the entire country for $50 – all through Hanoi Backpacker's Hostel.  Are you starting to notice a pattern here?
Greece
I went to Europe in 2008 right after the economy collapsed, Bush was a lameduck president, and the dollar was near an all-time low versus the Euro – AWESOME. Despite my unfortunate timing while being in the most-expensive continent on Earth, I still found Greece to be cheap. With the current state of Greece's economy and the strength of the dollar, I bet you Greece is even cheaper now.
When I finally arrived in Athens after a 40 hour train ride from hell, I stepped out of the station famished and looking for some food to stuff in my piehole. When I found a Gyro spot on the corner, I didn't care what it cost, I needed one. Then the sweet lady at the register told me it cost 1.5 EUROS (about $2). If I wasn't so hungry, I would have kissed that sweet, little Greek lady right on her sweet, hairy cheek. My friend who recently went to Greece told me they are still about the same price, and you can find these places all over Greece. The Gyros are HUGE too – packed with succulent lamb, feta cheese, lettuce, tomato, onions, and FRENCH FRIES. Yep, you get all off that for about $2 – I used to eat 3 a day.
When you get to the islands things can become more expensive, so you have to be careful. If you're on a budget, avoid the popular party islands like Mykonos, Ios, & Santorini. You'll spend a fortune there. I went to Paros, which is not a huge destination, but is not unknown either. Hostels on Paros cost about $7-8/night, but most people in the Grecian islands just party until they pass out on the beach anyways.
Panamá
Ever since the canal was built in Panama, there have been lots of US dollars floating around, and now most people actually prefer dollars to the local Balboa currency.  But even though your wallet may be stuffed with greenbacks while in Panama, you won't spend too many of them if you don't get wreckless.
On the mainland, things are even cheaper, but in Bocas del Toro, a tropical, island destination on the Caribbean side, it's not uncommon to find hostels for $10/night. Water taxis shuttle you between various islands for $1. Buying a beer at a beachside restaurant will set you back $2.  We found a place to camp, with preset tents & mattresses, showers & a kitchen all underneath a sheltered roof for $7/night.
Bocas del Toro is also one of the cheapest places I've seen to get certified in scuba diving – some $250 for your 4-day Open Water course. Some of the tours can get pricey depending on what you do and for how long, but there are plenty of ways to have fun for cheap. Rent a bike for $4/day and explore the islands – come on it's the Caribbean!
Argentina
Argentina is the only country that I have listed where the prices of everything depends on the black market. Well, technically it's called the blue market. The blue market is the business of changing currency in the street. Argentina's official exchange rate of their peso and the market's rate are different, significantly. This is due to problems with their government & inflation, but long story short, if you can, BRING U.S. DOLLARS TO ARGENTINA. You cannot extract US dollars from ATM's anywhere in Argentina. If you forget to bring dollars, or run out of money, you can always take a boat across the river to Uruguay, get a bunch of dollars, come back, and then change them in the street.
When we went this past summer, the official rate was about 8 pesos to the dollar, but the blue market rate was 12 pesos to the dollar. That's a difference of 35%. Argentina isn't terribly expensive to begin with, but if you can take advantage of the blue market exchange rate, then Argentina just became pretty cheap. I'm pretty sure that I ate steak and drank red wine every day, for like 100 pesos. Finding hostels in the nicest areas of Buenos Aires can be done for 60-100 pesos (depending on the season) – and given the fact that Buenos Aires looks like Paris & is the most beautiful city in South America – that is a steal.
Laos
Laos is unfortunately one of the 20 poorest countries in the world, and that translates to dirt cheap prices. Which reminds me, not only do you get amazing prices when you visit these countries, but spending money there helps out the people and economy. So travel to these countries and spend money there – win win!
Anyways, just getting into the country from Thailand is a cheap adventure. Given that the roads are horrible in Laos, we opted for the 2 night, 2 day slow boat trip down the Mekong River, which included accommodations and amazing scenery, and only cost about $30. After arriving in Luang Prabang (the final destination), you can find loads of French bakeries (Laos was a French colony) with $1-2 pastries, and restaurants with $2 Laotian dishes.
It's always fun comparing the tradeoff between quality and price in hostels, but I think this bungalow (pictured below) we found in Vang Vieng, Laos takes the cake for best $4 accommodation ever.
Mexico
I'm not talking about Cancun, Cozumel or Playa del Carmen. Any place in the Caribbean with thousands of gringos walking around will have gringo prices.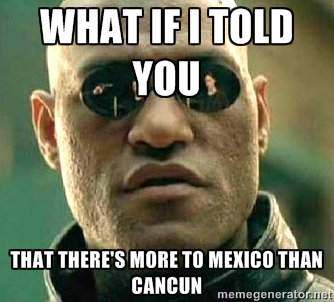 There are so many places to see in Mexico, and for cheap. From Mayan ruins, to beautiful "pueblo magico" towns filled with Spanish architecture, to other beautiful beaches, Mexico has some of the best variety for your peso of any country I've seen. Speaking of which the dollar currently stands at about 14.5 Mexican pesos.
We found beachfront hostels in Zipolite for 100 pesos, seafood platters (big portions) for about $10, and don't even get me started on the Coronas, XX, & Modelos.  My girlfriend and I actually just got back from Oaxaca, where we lived the good life on the beach for 3 weeks for about $300.
Mexico is another country where foodies on a budget are in heaven. Go into a local market and you may never leave. Picture Taco Bell dollar-menu prices, but for real authentic Mexican food. So many chalupas, enchiladas, & quesadillas, and so little time…
Thailand
Despite having been on travelers' radar for many years, Thailand remains a surprisingly cheap destination. There's a huge backpacking scene, so there are a wide variety of budget hostels/guesthouses everywhere you go between $5-10.  The cuisine is some of the tastiest in the world ($2-5 meals at street stalls/markets), the majority of the Buddhist temples are free, and Chang beer never disappoints (Beware: The Changover).
Thailand could turn into your favorite country for a variety of reasons, but one of my favorite things about this kingdom is the $5-10 hour-long Thai massages. Talk about pampering. For the price of a McDonalds happy meal, you can get your world rocked by a little Thai lady who jumps all over your body like a spider monkey. It's almost too good to be true, and you will leave happy (even without the "Happy Ending").
With the blissful beaches in the south, Bangkok's raucous party in the middle, and Chiang Mai & the mountains in the north, you'll want to cover some ground in exploring this country. The good news is that the transportation is also cheap – via bus, train, catamaran, or flight. Try sleeper buses or trains to save money on accommodations and wake up in your new destination (private 2nd class rooms start at approx. $25), or catch $60 jumper flights throughout the country if you're on a tighter schedule.
You Can't Afford Not To Go!
So do you like doing awesome things and not spending much money?  Consider traveling to some of these countries.  You'll be amazed at how cheap traveling can be sometimes.  Do you have any good cheap, travel stories?  I would love to hear about more cheap places & countries that aren't in this list.  See you cheapskates in the comments below!